'Digital gulag': Jeers and cheers after Facebook purge of Alex Jones, Infowars, Farrakhan & others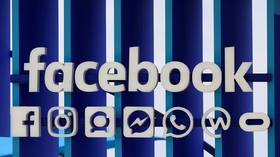 Bans of several anti-establishment figures on Facebook and Instagram has conservatives and moderates crying censorship and calling the measure "Orwellian" and a "digital gulag," while left-wing activists demanded more, and faster.
Facebook announced on Thursday it was banning the accounts of InfoWars, Alex Jones, Paul Joseph Watson, Milo Yiannopoulos, Laura Loomer, Paul Nehlen, and Louis Farrakhan, calling them "extremists" and "dangerous." The ban applies to Facebook and Instagram, also owned by the Menlo Park-based company.
Anyone who shares any Infowars content on Facebook platforms is facing a potential ban as well, the company said.
Also on rt.com
Facebook and Instagram ban Infowars, Milo & Farrakhan as 'dangerous'
Watson, an editor at Infowars, confirmed he had been banned, and said he was not given a reason, nor had he broken any rules.
"In an authoritarian society controlled by a handful of Silicon Valley giants, all dissent must be purged," he tweeted. "They're now just banning people for wrongthink. There's no pretense of enforcing rules. If you challenge them, you're gone."
Reacting to the ban, Loomer told a reporter that she lived in a "digital gulag." Pointing out that she's a Zionist, Loomer also objected to being purged by "Nazis in Silicon Valley" on Holocaust Remembrance Day and lumped in with Farrakhan and Nehlen, whom she described as "vile Jew haters."
"It's disgusting. But I don't expect anything else from these people who want me dead," Loomer said, adding that she would rather kill herself than "let them take the victory lap."
A number of prominent social media commentators – from all over the political spectrum – have have described the ban as arbitrary censorship and Facebook caving to demands from the far left.
Others have appealed to President Donald Trump for help, arguing that social media platforms are targeting his supporters.
Almost everyone banned on Thursday had backed Trump to some extent since 2016, with the notable exception of Farrakhan, the Nation of Islam leader and prominent Black nationalist. His inclusion in the ban, along with mainstream media outlets labeling him "right wing," has raised more than a few eyebrows.
On the other side, several Democrats and prominent left-wing activists cheered the ban but also chided Facebook for taking too long, and demanded social media platforms do even more to police what they called "hate speech," defined loosely as anything they might disagree with.
Think your friends would be interested? Share this story!
You can share this story on social media: