'Shocking & vindictive': WikiLeaks slams UK prison sentence for Assange over skipped bail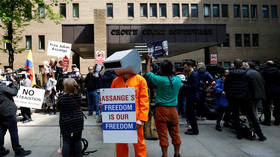 WikiLeaks has slammed a UK court's sentencing of its co-founder Julian Assange as "vindictive." It also raised major concerns about whether Assange will be treated fairly during an upcoming extradition hearing.
The sentence "is as shocking as it is vindictive," WikiLeaks said on Twitter on Wednesday, shortly after Assange received almost a year in prison for violating bail conditions.
We have grave concerns as to whether he will receive a fair extradition hearing in the UK.
Julian Assange skipped bail in 2012 while wanted in Sweden over rape allegations (the case was later dropped). The journalist then spent the next several years living under asylum in the Ecuadorian Embassy in London, out of fear Britain would hand him over to the US. He was forcibly dragged out of the building last month after the South American nation decided to evict him.
The arrest drew the ire of activists, journalists, and politicians who slammed it as a major threat to freedom of the press.
Also on rt.com
Julian Assange sentenced to 50 weeks in jail for jumping bail in UK
In the US, Assange was charged with "conspiracy" while working with whistleblower Chelsea Manning, who obtained classified data from a Pentagon computer, which was subsequently published by WikiLeaks. Among the leaked files was footage of US troops killing civilians in Baghdad.
Think your friends would be interested? Share this story!