Teen sues Apple for $1 billion, claims in-store AI led to his wrongful arrest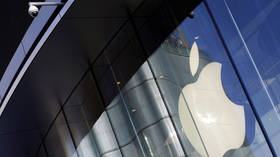 A NY college student is suing Apple for $1 billion because he says the company's secret in-store artificial intelligence incorrectly marked him as a thief, leading to his wrongful arrest.
Ousmane Bah, 18, was arrested at his home in New York late last year on suspicion of stealing from Apple Stores across four states. At the time of one of the alleged incidents in Boston, the student was attending his senior prom in New York.
READ MORE: 'Alexa, who's eavesdropping on me?' 1000s of humans reportedly audit 'snippets' from Amazon devices
Bah thinks his lost learner's driving permit, that didn't include a photograph, may have been used by the thief as identification during one of the robberies, linking his name to the crimes. He says that Apple's in-store AI then incorrectly associated video footage of the real thief with his name.
Also on rt.com
Google admits it lets hundreds of third party apps read your emails
The student claims an NYPD detective informed him that reviewed CCTV footage shows Bah looks "nothing like" the perpetrator, leading him to believe that it was Apple's own AI technology that mistakenly linked him to the crimes.
Apple has denied using facial recognition software in its stores. In a lawsuit filed Monday, Bah says the "stress and hardship" of traveling to multiple states to respond to the charges has affected his college attendance and thus his grades.
If you like this story, share it with a friend!
You can share this story on social media: