US teachers' unions oppose bill to make sex with students a crime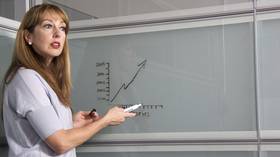 Teachers' unions in the state of Rhode Island came out to show their opposition to a bill that would criminalize sex between employees and students, complaining that the bill unfairly singled out school employees.
Representatives from the Rhode Island chapters of the United Federation of Teachers and the National Education Association registered their objection to a bill that would make sex between school employees and students a crime, closing a loophole that fails to protect students over the age of 16, who are legally old enough to consent, but still under the care of school employees.
UFT representative James Parisi actually testified against the measure during the hearing, complaining that the proposed law unfairly singles out school employees and expressing concern that other random adults – such as store managers and legislators – aren't included, GoodSchoolHunting reported.
Parisi also claimed that teachers getting busy with students "isn't really a problem" in Rhode Island, adding that teachers caught in flagrante were punished enough with the loss of their job and state teaching license.
However, Rhode Island received a near-failing grade in a USA Today investigation of states' background check practices, thanks to poor mandatory reporting laws and weak rules regarding sharing information on teacher misconduct with other states – meaning a teacher booted from their position for having sex with a student could simply cross state lines and start teaching again with a clean slate, depending on that state's own background check procedures.
Rhode Island is one of the few US states that have no "in loco parentis" exceptions to their statutory rape laws that protect minors above the age of consent from abuse by adults in positions of power over them – whether they're teachers, scout leaders, clergy, or other authority figures.
Also on rt.com
Parents outraged after 'revenge sex' and 'baby daddy' issues appear on school assignment
Meanwhile, earlier this week, a fifth-grade teacher and softball coach at an elementary school in Warwick, Rhode Island was arrested and charged with possession of child pornography.
If you like this story, share it with a friend!
You can share this story on social media: