Criminal charges dropped in case against Jussie Smollett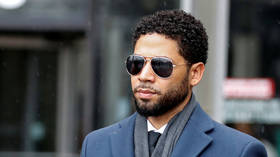 Chicago prosecutors have dropped criminal charges against 'Empire' star and alleged hate crime hoaxer Jussie Smollett. The actor had been indicted on 16 felony counts for faking a 'racist and homophobic' attack on himself.
Smollett claimed in January that two masked men wearing red hats yelled racial slurs at him, put a noose around his neck, poured bleach on his skin and shouted "This is MAGA country" - a reference to President Trump's 'Make America Great Again' catchphrase. Smollett's case began to unravel, however, after it emerged that the actor allegedly paid two Nigerian brothers to stage the attack.
Also on rt.com
Grand jury indicts Jussie Smollett on 16 counts for faking 'racist & homophobic' attack on himself
Smollett's initial story captivated outrage-hungry politicians and media figures. 2020 presidential candidates Sen. Kamala Harris (D-California) and Sen. Cory Booker (D-New Jersey) called the supposed attack a "modern day lynching," Rep. Adam Schiff (D-California) called it an "act of hatred and bigotry," and House Speaker Nancy Pelosi (D-California) called it "an affront to our humanity."
All of these Democrat leaders deleted their tweets when Smollett himself was arrested and charged in February.
After the charges against him were dropped on Tuesday, the case files were sealed from the public.
Smollett's attorneys said that their client "was a victim who was vilified and made to appear as a perpetrator as a result of false and inappropriate remarks made to the public causing an inappropriate rush to judgement."
Prosecutors dropped the case after "reviewing all of the facts and circumstances," and taking into account Smollett's volunteer service in the community. His lawyers, without a trace of irony, called the case "a reminder that there should never be an attempt to prove a case in the court of public opinion."
Chicago Mayor Rahm Emanuel blasted the prosecutors' decision, calling it a "whitewash of justice," and saying "because of a person's position – one set of rules applies to them and another set of rules apply to everyone else." Police Superintendent Eddie Johnson also spoke out, stating "At the end of the day it was Smollett who committed this hoax."
The decision shocked conservatives, some of whom viewed Smollett's easy ride as a form of "leftist privilege." Assistant District Attorney Joe Magats, however, insisted that the charges against Smollett were legitimate, telling reporters "we did not exonerate him."
Amidst the bickering, Smollett looks set to resume work on the 'Empire' set this week. "See y'all Wednesday," the show's team of writers tweeted.
Think your friends would be interested? Share this story!
You can share this story on social media: