'Pick my cotton, n****r': University of Georgia frat suspended over racist VIDEO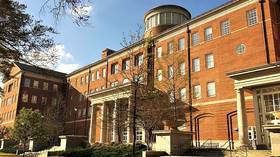 A University of Georgia (UGA) fraternity has been suspended after a video emerged showing a student mock-whipping another saying, "Pick my cotton n****r," as others watched and laughed.
The video, which has circulated on social media, shows a member of the Tau Kappa Epsilon (TKE) fraternity hitting a fellow member with a belt as he repeatedly says, "Pick my cotton, b***h."
The other student, who is lying in bed shouts, "I'm not black!" as the others in the room laugh. One then says, "You're not using the right word."
The student with the belt then changes his mantra to, "Pick my cotton n****r."
UGA released a statement saying it was aware of the video showing students "using racist language and engaging in behaviors that mock the suffering of enslaved peoples." Meanwhile, the university's student government said it understands that an investigation is underway into the incident and the fraternity has been suspended.
Tau Kappa Epsilon released a statement saying it had expelled four of its members over the video and that it was "disgusted, appalled and angered" by the remarks made in the footage.
UGA has a controversial history with slavery. In 2015, construction crews discovered over 100 human remains in what was a former slave burial site on land now part of the campus. The school was criticized for first claiming the remains were of people of European descent, and then for quietly reburying the remains in a largely white cemetery.
It was also accused of failing to adequately address its past ties to slavery.
Also on rt.com
Sororities & fraternities take Harvard to court over ban on single-gender clubs
Think your friends would be interested? Share this story!
You can share this story on social media: