Sororities & fraternities take Harvard to court over ban on single-gender clubs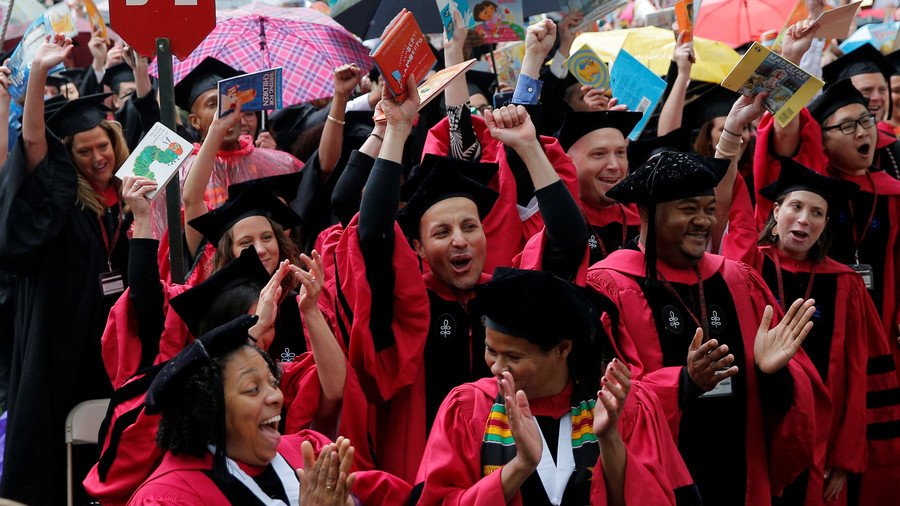 Lawsuits filed by a number of sororities and fraternities argue that Harvard University's crackdown on single-sex clubs, which includes penalties for club members, has violated anti-discrimination law and the US constitution.
Two lawsuits were filed by four international sororities and two fraternities, as well as by three individual students, against Harvard's implicit ban on same-sex clubs which they see as discriminatory.
The lawsuit takes aim at the policy, introduced back in 2016 to counter "privilege and exclusion" thriving at all-male off-campus clubs, according to university officials at the time.
"[T]he discriminatory membership policies of these organizations have led to the perpetuation of spaces that are rife with power imbalances," Dean of the College Rakesh Khurana said at the time, as he accused fraternities of promoting values that undermine those of Harvard University.
The policy, which came into effect last year, prevents members of single-sex organizations from receiving certain scholarships, taking on leadership positions, including captaining athletic teams.
The move, supposed to be fighting gender discrimination, has sparked outcry among those who were deemed to be the main beneficiaries of more inclusive environment – women, since the restrictions also dealt a blow to all-female outfits.
Following almost a year of debates, the university caved in, granting all-female groups a five-year grace period. During this period, the sororities are allowed to remain "gender-focused" meaning they still need to open up but can keep their main activities women-oriented.
READ MORE: Due process or helping rapists? Department of Education slammed for sex assault definition change
However, the amendment was apparently not enough, with four sororities now suing the university."To be sure, the sanctions policy has also seriously harmed Harvard undergraduates' fraternities and all-male final clubs and their members.But women and their former all-female social clubs have suffered the most," says the federal lawsuit, filed by Kappa Alpha Theta and Kappa Kappa Gamma international sororities, as well as Sigma Chi and Sigma Alpha Epsilon fraternities.
The plaintiffs argue that the university has disproportionately singled out same-sex clubs, pointing out that its approach to white supremacist groups, for instance, is nowhere near as harsh.
"A Harvard undergraduate could join the American Nazi party, or could create an off-campus undergraduate chapter of the Ku Klux Klan, without running afoul of the sanctions policy, or any other Harvard student-conduct policy."
The federal lawsuit accuses the university administration of violating the Title IX statute stating that "no person shall, on the basis of sex, be excluded from participation in, be denied the benefits of, or be subjected to discrimination" under any state-subsidized program.
The state lawsuit, filed by Delta Gamma and Alpha Phi international sororities and a Cambridge sorority chapter, accuses the government of trampling on students' rights for free association and equal treatment, guaranteed by the constitution.
Stanton Jones, a lawyer for the claimants, called on the Ivy League university to leave the matter at the discretion of students themselves.
"Harvard should get out of the business of trying to dictate who students spend their time with off campus," he said
Like this story? Share it with a friend!
You can share this story on social media: