Trump refuses to let 'remorseful ISIS wife from Alabama' back into US, setting Twitter on fire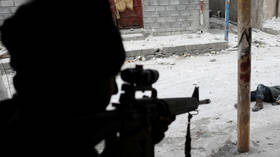 US President Donald Trump has refused to take in the New Jersey-born ISIS bride pleading to be allowed back into the US now that the terror group is all but destroyed in Syria, sparking an avalanche of mixed reactions on Twitter.
Trump tweeted out his defiant refusal to allow Hoda Muthana, now living in a Syrian refugee camp with her son four years after running away to marry an Islamic State (IS, formerly ISIL) fighter, to return to her family home in Hoover, Alabama. Muthana, now a widow and mother of a young son, claimed she "deeply, deeply regrets" her flight to the Middle East in 2014 to join the terrorist group.
Trump's proclamation came just days after he warned European countries that they must repatriate and put on trial the 800-odd European IS fighters currently held captive by the US' Syrian allies or the jihadists would be released, certain to "permeate Europe."
Twitter pounced on the apparent hypocrisy,
with some insisting Muthana was entitled to a trial,
or at least that her son deserved a second chance.
Trump's fans cheered the president and hurled taunts at the suddenly-remorseful IS wife.
Some of the most strident "Resistance" voices actually crossed party lines to agree with their erstwhile nemesis.
Others commented on media double standards,
while some attempted a "trial-by-Twitter"…
And at least one person found it curious how Muthana had popped up at the same time as British IS wife Shamima Begum, whom Theresa May's government announced it would strip of her citizenship on Tuesday.
Also on rt.com
But they are dangerous! Europe reluctant to 'take back' ISIS fighters as Trump demands
You can share this story on social media: