Retailer pulls 'fake news' shirt after journalist's Twitter meltdown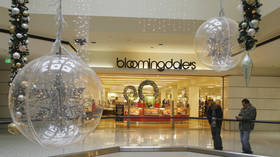 Luxury retailer Bloomingdale's has yanked a t-shirt reading "Fake News" from their stores, after a journalist called them out on Twitter, sparking a massive backlash.
Allison Kaden, a reporter for New York channel PIX11, tweeted a picture of the yellow, weathered-looking t-shirt after spotting it on a mannequin inside Bloomingdales' White Plains, NY outlet.
Not only was the shirt not "funny or fashionable," Kaden scolded, but it "further delegitimizes hard working journalists who bring REAL news to their communities."
By Monday morning, with over a thousand comments and retweets on Kaden's post, Bloomingdale's caved, apologizing "for any offense we may have caused" and "working quickly to remove this t-shirt." The repugnant raiment was "immediately removed from our selling floor," a spokesperson told Fox News, apologizing "to anyone who found this t-shirt distressing."
But – perhaps unsurprisingly, given recent events – that wasn't good enough for some media figures. Pamela Wood, a Baltimore Sun reporter, piled on, accusing the high-end department store of "damage done to our democracy."
While a few voices reminded Wood that "fake news" was injected into the discourse by journalists themselves during the 2016 election…
…most people piled on to ridicule Bloomingdale's for "caving in to online rage mobs."
Others found themselves lusting after the controversy-tainted garment...
…so much so that one person wondered if they hadn't just fallen for a really clever marketing campaign.
Commenters wondered at the psychology of who might censor a t-shirt.
Many agreed that Twitter's most recent capitulation to angry journalists had set a dangerous precedent,
and at least one suggested giving Wood a taste of her own medicine.
…though her friends, at least, assured her she was fighting the good fight.
There's actually precedent for pulling a 'fake news' garment from the shelves, though the retailer that did so has since closed down. Washington, DC's Newseum quit selling a 'fake news' t-shirt in August after outcry from journalists, who claimed the shirt echoed President Donald Trump's attacks on the press. The Newseum will close at the end of this year. Bloomingdale's beware.
If you like this story, share it with a friend!
You can share this story on social media: