'Germs aren't real': Fox host says he hasn't washed hands in 10 yrs, Twitter freaks out (VIDEO)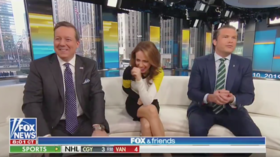 Fox & Friends host Pete Hegseth made a truly extraordinary remark on Sunday's program that has Twitter in a frenzy of shock, disbelief and disgust; the US Army veteran claims he hasn't washed his hands in a decade.
"My 2019 resolution is to say things on air that I say off air. I don't think I've washed my hands for 10 years. Really, I don't really wash my hands ever," Hegseth admitted during a post-advertising break discussion about the merits of eating day-old leftover pizza.
"I inoculate myself," Hegseth continued. "Germs are not a real thing. I can't see them. Therefore, they're not real." Hegseth served with the US Army in both Afghanistan and Iraq, and may well have maintained a stricter hygiene regimen while on duty before returning to a somewhat less sanitary life as a civilian.
"These hands look pretty clean to me," he told co-host Jedediah Bila. Hegseth later tweeted the hashtag '#DontWash' after his claim spread far and wide, like some form of virus...
Reaction to both Hegseth's initial statement and subsequent doubling down was, understandably, one of revulsion and disgust.
Washing one's hands is one of the rudimentary best practices in preventive medicine as it prevents the spread of infections and viruses to other people.
Germs and microbes have been observed in pretty much every environment on Earth, from our food, to the soil in which it grows, and the hands of the humans that produce and prepare it. All of whom are expected to wash their hands.
Also on rt.com
New 'nightmare bacteria verging on untreatable' now in every US state
The Centers for Disease Control and Prevention provides an extensive list of situations where you should wash your hands on its website, and it includes the vast majority of human day-to-day activities.
This is far from the first time the TV host created a stir mid-broadcast. Hegseth notoriously hit a West Point drummer with a misdirected ax during a live segment from Times Square in New York in 2015. Thankfully, drummer Jeff Prosperie was not seriously harmed. Apparently, Hegseth didn't see him either.
Think your friends would be interested? Share this story!
You can share this story on social media: