SOTU: Trump urges Congress to 'choose greatness'; Is that even possible?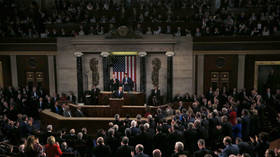 In his second State of the Union speech, President Donald Trump dared Congress and America to 'choose greatness' over identity politics and divisions. Despite occasional moments of bipartisan unity, such a future looks unlikely.
"We must choose between greatness or gridlock, results or resistance, vision or vengeance, incredible progress or pointless destruction. Tonight, I ask you to choose greatness," Trump said at the start of his address on Tuesday evening, which clocked at nearly 90 minutes.
For all his appeal to bipartisanship, Trump chose each word in that sentence deliberately, to draw a line between his policies and those of the opposition Democrats, personified by Speaker of the House Nancy Pelosi, who was sitting right behind him.
Though everyone applauded his line that "victory is not winning for our party, victory is winning for our country," as the speech went on Trump made it clear that he believed his policies – not Democrat or Republican – were the correct ones.
The president actually made a number of overtures to Democrats. As he painted a picture of a rising economy, with manufacturing jobs returning, millions lifted from welfare and the lowest unemployment ever, the line about women entering the workforce in record numbers – including in Congress – got him a rare standing ovation and even a little celebratory dance from the female Democrats, dressed in white.
He also praised the bipartisan effort to reform federal prisons, and agreed with the frequent Democrat talking point about criminal justice often being unfair to African-Americans. Two of his guests in the gallery were ex-convicts Alice Johnson and Matthew Charles, both black.
He talked healthcare, from lowering drug prices and protecting pre-existing conditions to eradicating AIDS within 10 years and funding research to battle childhood cancers.
Trump also dug in, however, on the issues he considered of paramount importance, calling out Democrats for supporting last-moment abortions – and right after getting cheers and applause from them for endorsing paid family leave.
Stony silence from the Democrats greeted his oath to build a wall on the border with Mexico, too. Repeating the facts and figures he often invoked during the shutdown battle, Trump also resorted to emotional rhetoric, contrasting the wealthy who call for open borders "while living their lives behind walls and gates, and guards" to the working class that has to deal with all the consequences of illegal immigration, from lower wages and crime to crowded schools and hospitals, and the fraying safety net.
Also on rt.com
Venezuela seizes 'US weapons shipment' as Trump vows to support 'noble quest for freedom'
He used his administration's confrontation with Venezuela to vow that "America will never be a socialist country," at which point the cameras in the House chamber zoomed in on the frowning face of Senator Bernie Sanders, the independent from Vermont who self-identifies as a democratic socialist.
Also on rt.com
Better dead than red! Congress bonds over shared hatred for socialism at Trump's SOTU
The same rhetorical trick was used to segue from condemning Iran for threatening "genocide against the Jewish people" to praising the Pittsburgh police officer who charged into the Tree of Life Synagogue to stop the shooter who had killed 11 there, and one of the survivors of that shooting, who had also lived through the Holocaust.
Once more, Trump went to the well of World War II – invoking the upcoming 75th anniversary of the Normandy landings and the fact that one of the Holocaust survivors in the gallery was reunited with one of the D-Day veterans who liberated Dachau – to lay claim to Washington's moral authority in the world. All he had to say about Russia, which liberated Auschwitz and sacrificed over 20 million lives to defeat Hitler, was to accuse it of violating the INF arms control treaty his administration had just unilaterally repudiated.
Speaking of foreign policy, Trump bucked both parties as he vowed to keep talking with North Korea, negotiating an end to the war in Afghanistan, and finishing the withdrawal from Syria. Just hours before, his own Senate Majority Leader Mitch McConnell (R-Kentucky) got bipartisan support – 68 votes – for a resolution opposing that withdrawal.
Also on rt.com
Trump announces 2nd meeting with Kim, takes credit for avoiding 'major war' with North Korea
"We must choose whether we are defined by our differences – or whether we dare to transcend them," Trump said in closing. It remains to be seen how that will resonate across the country. The lawmakers on Capitol Hill, however, had already made up their minds.
Nebojsa Malic, RT
You can share this story on social media: