Better dead than red! Congress bonds over shared hatred for socialism at Trump's SOTU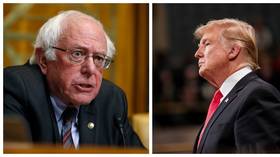 Lawmakers watching President Donald Trump's State of the Union address were sharply divided along partisan lines until the president mentioned socialism – then they chanted "USA! USA!" as if McCarthy himself was watching.
Trump affirmed the US' capitalist future – never really in doubt, except in the rhetoric of a handful of members of Congress – as the audience arose in a standing ovation, chanting "USA! USA!" in a joyful if vacant show of patriotism.
Trump raised the specter of Venezuela as an example of socialism's pitfalls, smoothing over the part where crippling US sanctions and a deliberate debasing of the price of oil turned the once-wealthy nation into one of the continent's poorest.
"America was founded on liberty and independence, not coercion, domination, and control," Trump said, as the camera zoomed in on a peeved-looking Bernie Sanders. Coercion of other countries, of course, was still "on the table."
Trump's paean to capitalism was easily the biggest hit of the speech, sparking multiple standing ovations and two bouts of chanting. Twitter was less enthusiastic, however.
Some tried to school the president with a quick civics lesson,
and pointed out that the word doesn't quite mean what he thinks it means.
Others noted that socialism was near the bottom of the list of threats to the American way.
And Trump's defenders cheered, probably shouting "USA! USA!" from the comfort of their homes.
More than one person was reminded of the last time "socialism" played such an outsize role in US politics.
The more things change, the more they stay the same.
Also on rt.com
'Stop Trump's insane actions!' Venezuela's Maduro talks to RT about avoiding war
Like this story? Share it with a friend!
You can share this story on social media: