FISA abuse accusations 'nonsense' says Comey, dodging dossier question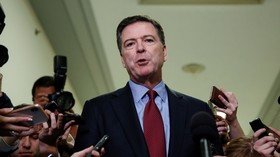 Former FBI Director James Comey called "nonsense" the accusations that the bureau or Department of Justice acted inappropriately in obtaining a warrant to spy on the Trump presidential campaign.
"I have total confidence the FISA process was followed," Comey told reporters on Friday, adding that the DOJ and the FBI handled the case in a "thoughtful and responsible way."
"The notion that FISA was abused here is nonsense," he said after testifying before the House Judiciary and Oversight and Government Reform committees in a closed session.
Reporter asks James Comey: "Did you have total confidence in the dossier when you used it to secure a surveillance warrant and also in the subsequent renewals?"Comey doesn't answer the question, calls the notion of FISA abuse "nonsense" pic.twitter.com/bTv9kXloih

— Ryan Saavedra (@RealSaavedra) December 7, 2018
Comey ducked the question about the credibility of the so-called 'Steele Dossier,' the compilation of claims about candidate Donald Trump's connections with Russia that he himself once described as "salacious and unverified."
According to the famous memo by the House Intelligence Committee Republicans published back in February, the dossier "formed an essential part" of the warrant obtained by the FBI from the Foreign Intelligence Surveillance Court (FISC) on October 21, 2016.
This authorized the Obama administration to spy on the Trump campaign during the presidential election, and well into the transition and early presidency, as the warrant was extended three times, also on the basis of the dossier. The FISA applications did not properly disclose that the dossier was entirely funded by Hillary Clinton's campaign, the Republican memo said.
Also on rt.com
'Disgraceful': Trump skewers AG Sessions over FISA abuses probe
Comey's replacement at the FBI, Christopher Wray, was reportedly so shocked by the four-page FISA memo back in January, that he asked Comey's deputy Andrew McCabe to step down. McCabe tried to do so quietly, but ended up being sacked in March just days short of federal retirement, after an internal report accused him of leaking to the press and "lacking candor."
An investigation by the DOJ inspector-general into the FISA application is still open. A report into the Clinton emails investigation ('Midyear Exam'), published in July, said that five FBI employees "brought discredit to themselves, sowed doubt about the FBI's handling of the Midyear investigation, and impacted the reputation of the FBI."
In September, President Trump ordered"immediate" declassification of the FISA documents, but changed his mind just days later, citing DOJ concerns about a perceived negative impact on the "Russiagate" investigation conducted by special counsel Robert Mueller, as well as pleas from unnamed allies saying the documents contained sensitive intelligence content.
Think your friends would be interested? Share this story!
You can share this story on social media: