'Socialists eat dogs' vs. 'subpoena power': Ocasio-Cortez & Trump Jr. dish it out on Twitter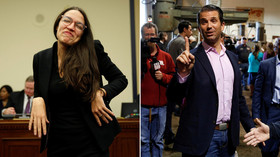 Incoming Congresswoman Alexandria Ocasio-Cortez lashed out at Donald Trump Jr., tweeting a veiled legal threat after a meme he posted rehashing a tired trope about socialism was published in the Washington Post.
The firefight began when the president's son posted an image meme mocking Ocasio-Cortez and dismissing socialism as a system doomed to end in dining on dogs, adding his sage observations: "It's funny cuz it's true." Ocasio-Cortez appeared to take the dig – and the WaPo's signal-boost – personally, escalating rapidly on Twitter.
Implying that the younger Trump's post was merely a false show of bravado to distract from the ongoing special counsel investigation of his father, she seemed to threaten further legal troubles for the family, boasting of her "subpoena power" and implying he had picked the wrong person to troll.
After Twitter cried foul over the "threat," reminding the freshman Congresswoman that wielding Congressional powers to intimidate one's enemies into silence is an ethics violation, if not entirely illegal, Ocasio-Cortez backpedaled, explaining she did not mean she personally wielded the subpoena power.
Her detractors demanded to know which authority figure had forced her to "apologize," and even some would-be supporters cringed, but others doubled down on their support.
Ocasio-Cortez was elected to shake things up in the Democratic Party and has been gathering support for her "Green New Deal" in the House, impressing long-time environmental activists at a climate change roundtable last week with her vision for addressing both environmental and economic justice.
Also on rt.com
Ocasio-Cortez v Tesla: Taxpayers have yet to see 'return on their investment'