Mainstream media grieves for Bush with whitewashed tributes and tear-jerker tweets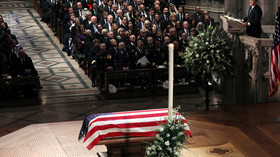 Tributes to former US President George H.W. Bush have flooded social media since his death last week — and judging by the outpouring of grief from mainstream media, journalists seem to be just as upset at his passing as anyone.
Instead of honest, balanced tributes which delivered a full picture of Bush's life and legacy, the media seemed to favor hagiography, retelling the former president's life with its blemishes removed.
Also on rt.com
Trump ignores stone-faced Hillary, greets Obamas as all sit awkwardly together at Bush 41's funeral
The New Yorker was a particularly bad offender, with writer Thomas Mallon describing Bush as a character who had an "irreducible niceness" to him, a man who waged a "just" war in Iraq and a president who "presided over a brief but glorious Pax Americana."
Another New Yorker journalist Susan B. Glasser, who described the late Senator John McCain's funeral as a "meeting of the resistance" was back again for Bush's sending off, this time to remind her followers how "extraordinary" a thing it is for a country to have two presidents from one family.
Glasser's tweet raised a few eyebrows, however, with many noting that living in a "hereditary aristocracy" wasn't actually such a great thing and that dynasty politics tends to be "indicative of rigid class structure with decreasing social mobility."
CNN journalist Brenna Williams tweeted a GIF image of George Bush passing a piece of candy to Michelle Obama; a mirroring, she said, of their viral candy-passing moment which "warmed our hearts" at McCain's funeral a few months ago.
On NBC's Today Show, one anchor expressed that she was still "recovering emotionally" from the few days surrounding Bush's funeral.
Prominent Russiagate reporter and Twitter personality Ed Krassenstein, tweeted that Bush's funeral was "a reminder that Republicans are mostly good people."
On the other side of the pond, the Guardian newspaper sparked some Twitter outrage with its obituary, writing that the former president "did not put a foot wrong" during his devastating 1991 invasion of Iraq, which was described by the paper as an "impressive achievement."
British TV presenter Piers Morgan was also saddened by Bush's passing, chiding Comedy Central's The Daily Show for posting a meme about the awkward meeting between Donald Trump and Barack Obama at "a great man's funeral."
Receiving less attention during a week of public mourning, however, were the uncomfortable bits of Bush's legacy. The US airstrikes which massacred Iraqis fleeing Kuwait City in 1991, leaving a trail of human destruction known now as the Highway of Death, barely got a mention.
Nor did the shooting down of an Iranian passenger jet by the USS Vincennes in 1988, after which the 'irreducibly nice' Bush declared that he would "never apologize for the United States of America, ever — I don't care what the facts are."
The Bush obituaries also conveniently left out numerous recent allegations of inappropriate touching and groping of women that had cropped up during the height of the #MeToo movement.
Subscribe to RT newsletter to get stories the mainstream media won't tell you.
You can share this story on social media: