Trump ignores stone-faced Hillary, greets Obamas as all sit awkwardly together at Bush 41's funeral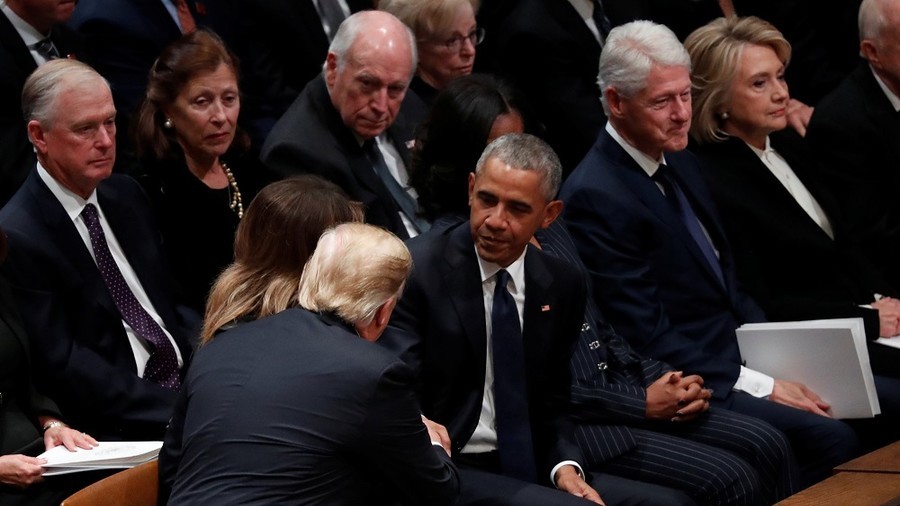 US President Donald Trump's arrival at the funeral service for President George H.W. Bush seemed to spoil the mood among the former Democrat presidents, who had been laughing and chatting just moments earlier.
Wednesday was declared a day of mourning in the US, as services for the former president (1989-1993) unfolded at the National Cathedral in Washington, DC. All the living former occupants of the White House gathered at the funeral, including Jimmy Carter (1977-1981), Bill Clinton (1993-2001), George W. Bush (2001-2009) and Barack Obama (2009-2017).
The Carters, Clintons, and Obamas were seated together in the left pew. The arrival of Donald and Melania Trump seemed to sour their mood, however, as the chatter among them abruptly stopped and their faces turned sullen.
Cable news commentators made much of the fact that Trump shook hands and exchanged greetings with the Obamas, but did not move down the pew to do the same with the Clintons or the Carters.
Fox News host Chris Wallace was struck by the change of atmosphere.
"I have to say I was struck when President Trump and Melania Trump came to the front row that it was as if a chill had descended," Wallace said on air.
Body language expert Judi James described the change even more vividly.
"You might spot the second Trump arrived," she told The Sun, even before the cameras zoomed in on him. "Till then the gathering of earlier presidents had concerned some comparatively relaxed shows of sociable physique language. However, all of a sudden – like a herd of animals sensing a lion – their poses and non-verbal indicators morphed into one thing much more cautious and stony-faced."
Former U.S. President George W. Bush slipped Michelle Obama another treat at his father's funeral, just as he did months ago at John McCain's funeral pic.twitter.com/qg9J8DHZ6x

— Reuters Top News (@Reuters) December 5, 2018
It was the younger Bush who relaxed the atmosphere a bit, greeting everyone in the presidential pew before joining his family members in the opposite row. He even seemed to slip another cough drop to Michelle Obama, the way he did at Senator John McCain's funeral in August.
Like this story? Share it with a friend!