Pundits lose minds over 'bipartisan' candy-sharing moment between George W. Bush & Michelle Obama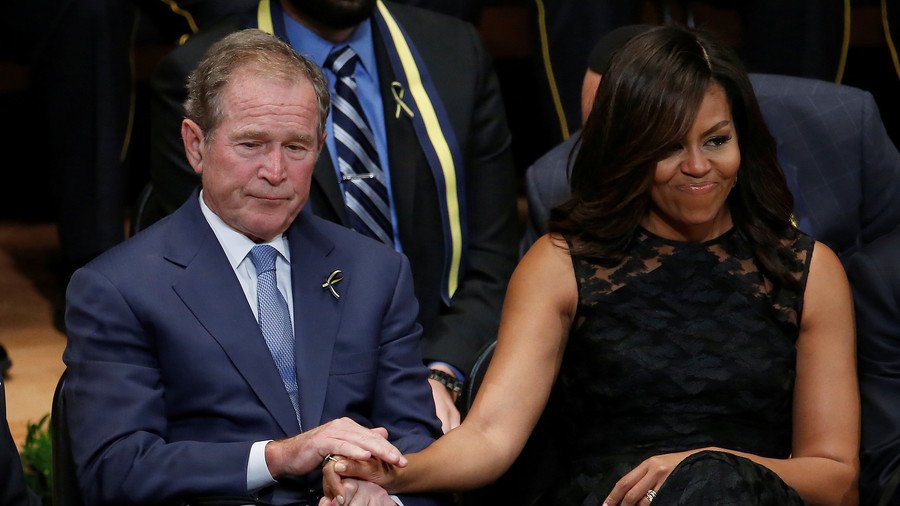 Who knew Democrats and Republicans spoke to each other outside of work hours? Apparently not everyone, since the moment George Bush passed some candy to Michelle Obama at John McCain's funeral sent social media into meltdown.
The seemingly mundane moment — former President George W. Bush caught on camera handing some kind of sweet to the former First Lady — has turned into one of the most shared moments from McCain's funeral.
It all started when Roland Scahill, a former theater agent convicted of fraud for conning investors into backing a nonexistent play in 2017, shared a four-second clip of the candy-passing moment on Twitter, which was then retweeted more than 111,000 times.
Even journalists and pundits couldn't handle the feels they were experiencing seeing the former president sneakily pass the candy to Obama. The official Twitter account for MSNBC tweeted out the video as a moment of "bipartisanship." Forbes Media Executive Vice President Moira Forbes had a similar thought, referring to the moment as "bipartisanship at its best."
Some took it even further, however. One CNN contributor, Robert Maguire, tweeted that it "might be the video that saves the Republic," while CNN producer Caroline Kenny gushed about the "cute" relationship shared between Bush and Obama. Real Daily Wire editor Emily Zanotti suggested the two pals needed a reality TV show to themselves.
NPR host Mary Louise Kelly was so bowled over by the bipartisanship on display that she couldn't stop thinking about the "unexpectedly moving" moment, while journalist Aisha Sultan remarked that only a "true friend" would pass you candy at such a moment.
It's almost as if they haven't realized that the bad blood between the two parties is mostly theater and that they're really all great buddies who "feed from the same trough" as one tweeter put it.
But it wasn't all squeals of excitement and declarations that the cuteness was too much to handle. Some Twitter users preferred to remind their followers that Bush is actually the person responsible for lying to the country and getting them involved in a 15-year war in Iraq.
One columnist pointed out that the willingness to forgive Bush for Iraq because he shares candy was a weird reaction to the clip, while another recalled Bush's responsibility for secret torture black sites around the world and "lawless surveillance" of Americans.
Commenting on the somewhat over-the-top reaction to the candy incident, one Twitter users said he wished Americans were similarly interested in former NSA contractor Reality Winner, a whistleblower who was just sentenced to five years in prison for leaking a document to the media.
Others joked that weighing the candy incident up against the Iraq War, it was difficult to decide whether Bush was a good guy or a bad guy.
You can share this story on social media: