US-trained militants planned to carry out terrorist attacks in Palmyra – Russian MoD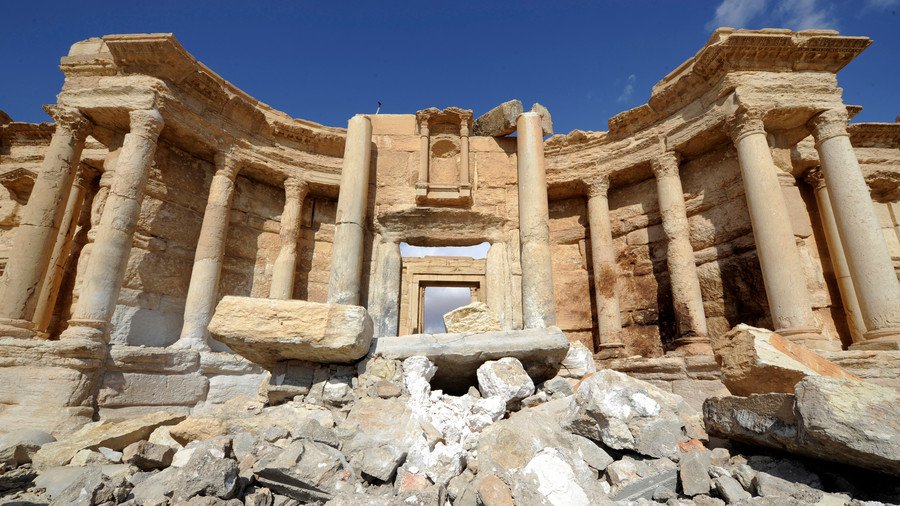 US specialists were training militants in Syria who were set to carry out a terrorist attacks in Palmyra, the Russian Defense Ministry has said. It received the information from fighters captured by the Syrian Army.
The captured militants said that they were from the Lions of the East Army group, which is affiliated with the Free Syrian Army, according to the ministry. Some 500 fighters were based at the militants' camp, which was located near the US-led international coalition's Al-Tanf military base.
READ MORE: Terrorists readying chemical attack to frame Damascus & provide pretext for US strikes – Russian MoD
The militants were to carry out "a series of terrorist attacks in Palmyra area" and ensure the passage of around 300 fighters to capture the city within the next week, the ministry said. One of the captured militants said that they were trained by US instructors, and that the group was receiving weapons and ammunition from the US base.
Al-Tanf base is close to the Rukban refugee camp, which contains over 60,000 women and children from the cities of Raqqa and Der ez-Zor.
In late July, the Russian Defense Ministry also warned about chemical-weapons provocations planned by militants in Idlib province, northwestern Syria. It said that an attack would be used as a pretext for airstrikes on Syrian targets by the US, UK and France.
The Defense Ministry added that USS 'The Sullivans,' an Arleigh Burke-class Aegis guided missile destroyer, had already been deployed to the Persian Gulf for the operation.
In April, the US, UK and France unleashed a bombing campaign on Syria. The airstrikes were carried out in response to an alleged gas attack in Douma on April 7, which the West blamed on Bashar Assad's government. The operation started hours before a team from the Organization for the Prohibition of Chemical Weapons (OPCW) was due to reach the city.
Islamic State militants initially captured Palmyra, often referred to as the Bride of the Syrian Desert, in 2015, deliberately demolishing and damaging some of its world-famous historic sites. In March 2016, it was recaptured by the Syrian Army, supported by Russian airstrikes. IS managed to win Palmyra back the following December and to hold it until March 2017, when it was finally liberated by Damascus.
Think your friends would be interested? Share this story!
You can share this story on social media: