Man coughs up perfectly intact 'blood sculpture' of his lung (DISTURBING PHOTO)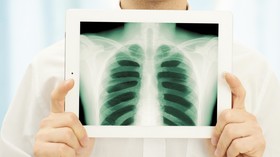 The New England Journal of Medicine shares some of the most amazing imagery from the often weird and wonderful field of medicine, but sometimes the content can be simultaneously disgusting and yet mesmerizing.
On Tuesday, the widely respected journal shared a truly incredible case: a 36-year-old man with aggressive end-stage heart failure had a coughing fit so extreme that he coughed up a six-inch wide blood clot.
While that, in and of itself, is something astounding, the medical staff treating the unnamed man were astonished to find that, given his unique medical circumstances, the man had actually expectorated a perfectly intact cast of his right bronchial tree, one of the tubular networks that brings air to and from the lungs.
Georg Wieselthaler, a transplant and pulmonary surgeon at the University of California at San Francisco, was in charge of the man's care, and hooked the patient up to a pump to assist blood flow throughout his body, while also providing a course of anticoagulants to help keep the man alive.
"You have high turbulence inside the pumps, and that can cause clots to form inside," Wieselthalers told The Atlantic. "So with all these patients, you have to give them anticoagulants to make the blood thinner and prevent clots from forming."
However, anticoagulants can cause problems if a breach occurs in the blood-vessel network, which happened in this extraordinary case; blood broke out of the patient's pulmonary network into his lower right lung.
"We were astonished," Wieselthaler said. "It's a curiosity you can't imagine—I mean, this is very, very, very rare."
READ MORE: Hidden secrets of 3,000yo Egyptian tomb unlocked by archaeologists (VIDEO)
It turns out that the 36-year-old patient's condition produced elevated levels of fibrinogen, a protein that can act as a glue to assist the clotting process, which allowed the rubbery 'blood sculpture' to escape the man's trachea intact.
"Because it was so large, he was able to generate enough force from an entire right side of his thorax to push this up and out," Gavitt Woodard, a clinical fellow said.
Sadly, despite the best efforts of the medical team, the man died a week after coughing up the bronchial tube cast.
Bronchial tree clots (called casts) are actually relativelycommon but only in extremely rare cases do they emerge in such pristine condition.
Think your friends would be interested? Share this story!