'Racism' vs. 'anti-Semitism': CNN dragged for firing black contributor over pro-Palestine speech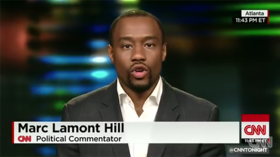 After firing commentator Marc Lamont Hill for a supposedly anti-Semitic speech in support of Palestine, CNN is experiencing its own backlash as hundreds of professors and students sign a letter denouncing the network as racist.
"CNN and Temple University should have celebrated Hill's call for justice and equality, but instead used it as an opportunity to silence and intimidate those who criticize the state of Israel," reads the letter, which has been signed by over 500 students, 200 professors, and dozens of student groups as of Thursday.
CNN fired Hill, a black man, after a speech he gave in support of Palestinian rights to the United Nations was condemned as anti-Semitic by the Anti-Defamation League (ADL) and other pro-Israel groups. The Temple University media studies professor denounced Israel's "ethnic cleansing" and called for a "free Palestine from the river to the sea" on the International Day of Solidarity with the Palestinian People last Thursday.
The academics slammed CNN for ignoring the meaning of Hill's speech, which was delivered on the 70th anniversary of the Universal Declaration of Human Rights, and "conflat[ing] criticism of the Israeli state with anti-Semitism" – a rhetorical sleight-of-hand the ADL and its allies have controversially attempted to enshrine in law. They also took the ADL to task for its "long history with anti-Arab sentiment and Islamophobia" and "complicity in the racist policing of Black communities."
The ADL claimed the phrase "from the river to the sea" is an anti-Semitic dog-whistle used by Hamas and Islamic terror groups to call for an end to the Jewish state and demanded Hill's termination. CNN complied almost immediately, announcing last Thursday that the professor was "no longer under contract" with the station, but Temple was unable to follow suit – Hill has tenure.
While the university released an official statement declaring that "Professor Hill's right to express his opinion is protected by the Constitution to the same extent as any other private citizen" and confirmed he was still employed, Temple board chairman Patrick O'Connor told Campus Reform he was looking into "available options" to get rid of him with the school's legal staff, telling the outlet "People wanted to fire him right away."
The letter-writers denounced Temple administrators as bigots and implored them not to make the same mistake as CNN. "We cannot pretend that painting Hill as a threat that Temple University must remove is fueled by anything other than racism," they wrote, calling the university's failure to stand up for Hill "part of a much larger history of anti-Blackness."
A petition calling on CNN to rehire Hill launched by the Intercept's Ryan Grim has gathered over 13,000 signatures. The Temple University chapter of Students for Justice in Palestine held a rally in support of Hill on Thursday.
If you like this story, share it with a friend!
You can share this story on social media: