US demands Russia 'end or modify' missile it doesn't like to save INF treaty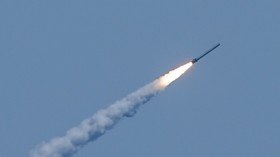 Washington is demanding that Moscow scrap or modify a missile dubbed "non-compliant" with the landmark INF nuclear arms treaty by US intelligence. Russia has repeatedly said the missile falls well within the range allowed.
Russia would need to either "end" the 9M729 missile program, or modify it to be in compliance with the Intermediate-Range Nuclear Forces (INF) treaty, Andrea Thompson, Undersecretary for Arms Control at the State Department, told reporters at a telephone briefing on Thursday.
"Either you [get rid of] the system, [get rid of] the launcher or change the system where it doesn't exceed the range" in a verifiable manner, Thompson said.
US Under Secretary for Arms Control Andrea Thompson said Russia must either end its 9M729 missile system or modify it so it is in compliance with the Intermediate-Range Nuclear Forces (INF) Treaty.

— Kristopher Rivera (@kgrivera) December 6, 2018
The 9M729, referred to by NATO as SSC-8, is believed to be a cruise missile variant launched from the Iskander-M ballistic missile platform. Russia has repeatedly said its range is no longer than the 500 km banned by the INF treaty.
While no report from the missile tests has contradicted this, the US intelligence community nonetheless believes its range could be greater. The assumption is based on the performance of different air- and sea-launched Russian cruise missiles, Kh-101 and Kalibr, neither of which is banned by the treaty.
On Tuesday, US Secretary of State Mike Pompeo gave Russia 60 days to "fix compliance" with the INF or the US will withdraw from it unilaterally. Moscow responded by inviting Pompeo to personally visit a test of the 'problematic' missile.
Senator Frants Klintsevich, who extended the hypothetical invitation, said the weapon system that has attracted such obsessive attention in the West has a range of 498 kilometers.
Calling the stir around the Russian weapon baseless, Klintsevich argued it's being used by Washington to "deceive the international community and advance its own plans," and as an excuse to leave the INF treaty.
READ MORE: US planned to ditch INF in advance, now seeks reason why it should – Putin on Pompeo ultimatum
Also on rt.com
US quitting landmark INF treaty is 'fact', Moscow prepares response to 'questions' – Lavrov
Washington is "well aware" of Russia's "full compliance" with the INF treaty, Russian Foreign Ministry spokeswoman Maria Zakharova said in response to Pompeo.
Contrary to the proposals from Foggy Bottom, President Donald Trump's national security adviser John Bolton made it clear during his visit to Moscow in October that the US saw withdrawing from the INF as a done deal.
"There's a new strategic reality out there," Bolton told reporters in Moscow, describing the INF as a Cold War relic, a "bilateral treaty in a multipolar ballistic missile world," that does not apply to countries like China, Iran or North Korea.
READ MORE: Trump's neocons have always hated arms control agreements, INF is no different
US media reports over the past decade have claimed that the 9M729 missile has the range similar to that of the sea-launched Kalibr-NK (SS-N-30) or the air-launched Kh-101 cruise missiles, but have offered no evidence for that assertion.
The INF treaty applies only to land-based cruise missiles, and specifically did not include air- and sea-launched rockets, which only the US possessed at the time.
Like this story? Share it with a friend!
You can share this story on social media: