Military action results in growing terrorism, US should pull out of Afghanistan – US veteran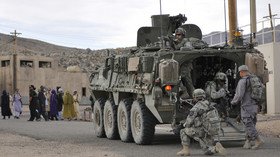 Unlike 15 years ago, the Taliban is ready to talk with the US, which means peace is possible in Afghanistan, but now it depends on what the US will compromise on, anti-war activist and US military veteran Will Griffin said.
The Afghan government said it is ready for talks with the Taliban without any preconditions and ready to discuss changes to the constitution.
Meanwhile, the nominee to lead US Central Command in charge of Afghanistan operations, has revealed to the Senate that Afghan army losses are "unsustainable." Lieutenant General Kenneth Mackenzie's admission comes even though the US has been training its army for 17 years now. During Mackenzie's confirmation hearing, lawmakers lashed out at the lack of progress, despite all the money thrown at the conflict.
Also on rt.com
Kabul ready to talk with Taliban without preconditions, discuss changes to Constitution - official
RT: What are the chances we'll see meaningful peace talks between the Afghan government and the Taliban, given that the Taliban has said negotiations would be a "waste of time"?
Will Griffin: I think coming to a conclusion with the Taliban participating in the Afghanistan government is inevitable now. We have 17 years of warfare going on. And through the past two years, as long as I can recall, the Pentagon had been admitting that there has been a stalemate in the country. The Taliban controls roughly 50 percent of that country right now. And the Americans are spending tax dollars year and year out on this war. And this year alone we've dropped more bombs on that country than any other year we've been there like…We've got problems here in the US that we need to stay focusing on.
RT: Does the willingness to negotiate show that the Afghan government is in a weak position. Will it embolden the Taliban?
WG: I don't think it will embolden them. This is a Taliban that is probably in its fourth or fifth generation. The Taliban has been around for a long time. So, this is a different Taliban that we are talking about 20 years ago. Just the fact that they are willing to sit down and talk with the US now compared to 15 years ago that they were not willing to even talk to the US…This is a point that I need to make: the US might stay in Afghanistan, they might have military bases there. And the Taliban might be compromising on having that issue. That is something that has never happened before. That shows signs that peace is possible. But now it really depends on what the US will compromise on.
Also on rt.com
Military defeats push Kabul into talks with Taliban as US seeks way out from Afghan stalemate
RT: Where has the US gone wrong in trying to secure peace for Afghanistan? Is there any prospect of peace without troop withdrawals?
WG: From the Pentagon, probably not. But I think the American people need to step up and say we are sick and tired of this war. We've spent too much, we've lost too much. The idea of moving forward – withdrawing – personally, I want that to happen. I don't think that the Pentagon wants that to happen. Unfortunately, there are a lot of corporations and defense contractors behind this that do not want this war to end. And they have a huge influence over the politicians and the decisions these politicians make in this country. We have to be very aware of that.
A lot of people would say that if the US pull out of Afghanistan, then the terrorist organizations will grow. I would actually counter that by saying that military action: bombs being dropped, killing massive amounts of innocent people, that is what is growing terrorism all over the Middle East, including South and West Asia.
Think your friends would be interested? Share this story!
You can share this story on social media: