'Mad Dog' Mattis calls Putin a 'slow learner'… then bemoans 'worsened' US relations with Russia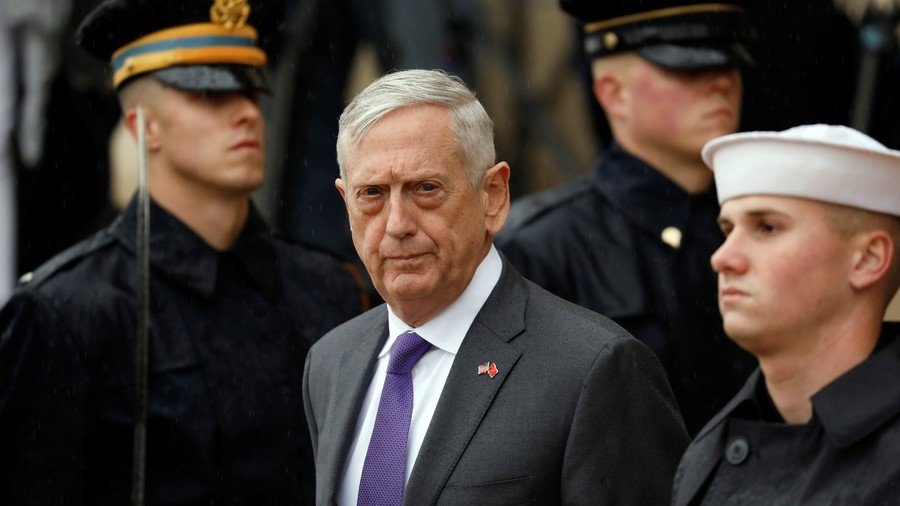 Vladimir Putin's simple-minded nature is to blame for the growing tensions between the US and Russia, Defense Secretary James Mattis has claimed, flexing his elite Marine Corps analytical skills.
The Pentagon chief on Sunday accused Russia's president of being a "slow learner" whose irresponsible denseness is creating "animosity against his people" – incendiary comments that somehow clash with the view of his current boss, Donald Trump, as well as former US President Bill Clinton.
Great move on delay (by V. Putin) - I always knew he was very smart!

— Donald J. Trump (@realDonaldTrump) December 30, 2016
According to 'Mad Dog' Mattis, Putin's alleged subpar intelligence has led to the deterioration of US-Russia relations, which have "worsened" since the start of the Trump administration.
The defense secretary added that the Russian leader is "someone that we simply cannot trust" because of his purported fondness for "ripping up" international agreements. Mattis might have missed a couple of things, though…
Also on rt.com
Mad Dog Mattis, the destroyer of Raqqa, frets about losing moral authority
In two short years, his own US administration has unilaterally withdrawn from the Iran nuclear accord, shredded trade deals, pulled out of the Paris Agreement on climate change, and threatened to axe the Intermediate-Range Nuclear Forces (INF) Treaty.
To further prove his superior mental prowess, Mattis declared that Putin "tried to muck around" in November's midterm elections – despite the fact that even the Russiagate disciples at the Daily Beast conceded there was no evidence to support such a claim.
Speculating about the soundness of Putin's noodle is a time-honored Pentagon tradition. In February, 2015, it was revealed that a Pentagon study had concluded that the Russian president had Asperger's syndrome.
The study's lead researcher came to this conclusion based on "movement pattern analysis" – or in layman's terms, watching videos of Putin, and then diagnosing his state of mind.
Like this story? Share it with a friend!
You can share this story on social media: