'Get me out of here': Trump and other US presidents caught on hot mic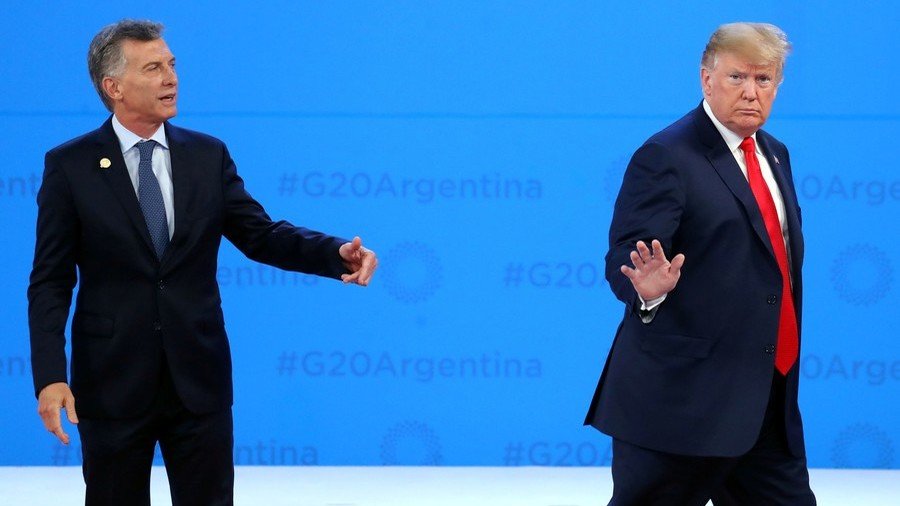 Donald Trump had apparently had enough of the G20 summit rather prematurely and was heard telling an aide to "Get me out of here." Of course, he wasn't the first US leader to get caught on a hot microphone.
The awkward moment occurred when Trump went up on stage to shake hands with Argentinean President, Mauricio Macri. But instead of remaining there for the traditional group photo, the US leader waved the media 'goodbye'. After an aide rushed to stop him he was heard saying "Get me out of here."
It was yet another blunder by Trump, which may seem innocent, however, compared to what his predecessors in the White House used to say when they thought no none was listening.
One of the most memorable high-level private chats was captured by journalists at the G20 gathering in France in 2011. Then US leader Barack Obama and his French counterpart Nicolas Sarkozy weren't too discreet in discussing the pain of dealing with Israeli Prime Minister, Benjamin Netanyahu. "I can't stand him. He's a liar," Sarkozy said of the Israeli PM, while Obama responded: "You're fed up with him? I have to deal with him every day."
With so many cameras surrounding him at all times, Obama has often become a hot mic victim, one such slip occurring during the 2012 talks with then-President of Russia Dmitry Medvedev. In a low voice, the US leader asked Medvedev to give him some "space," saying: "This is my last election. After my election I have more flexibility" in terms of relations with Moscow. Yet Russia only got sanctions and accusations of committing all possible sins during Obama's second term.
And Obama's predecessor George W. Bush just couldn't stay within the bounds of decency when addressing a hot topic off-camera. While discussing ways to stop the shelling of Israel with UK's Tony Blair at a G8 summit in Russia, he said that: "You see the irony is what they need to do is get Syria, to get Hezbollah to stop doing this sh*t and it's all over."
Back in 2000, sensitive microphones also captured Bush Jr., who was then only running for the White House, bashing a reporter that wrote critical pieces about him. "There's Adam Clymer, major league a**hole from the New York Times," Bush whispered in running mate Dick Cheney's ear up on the stage, but everybody could hear him, including the journalist in question.
A scary joke made by American President Ronald Reagan during a tense period of the Cold War nearly caused a military confrontation between the US and Russia. "My fellow Americans, I'm pleased to tell you today that I've signed legislation that will outlaw Russia forever. We begin bombing in five minutes," Reagan said at a sound check ahead of his regular radio address to the nation in 1984. Every one in the studio laughed, but when the mock announcement was leaked the Soviet authorities didn't find it funny, even putting some of their military units on high alert.
Like this story? Share it with a friend!
You can share this story on social media: