George H.W. Bush, last Cold War-era US president, dead at 94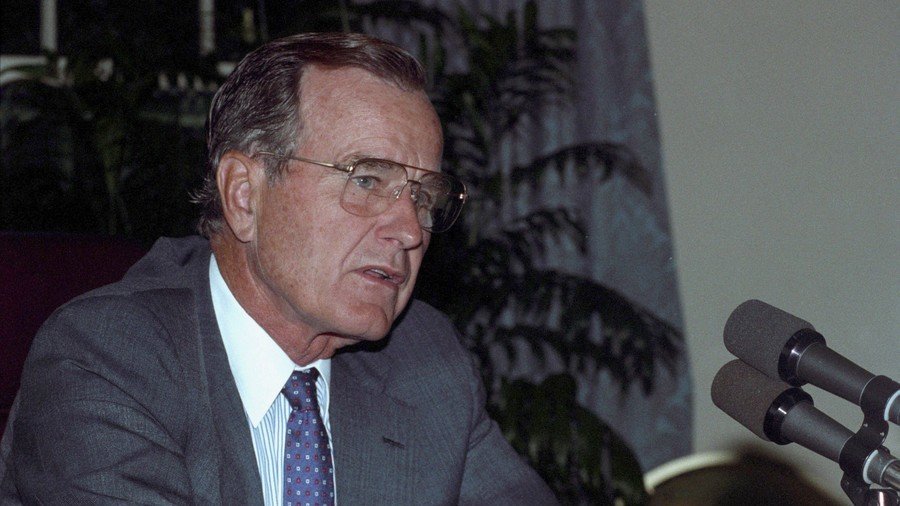 Former US President George H.W. Bush, credited for helping to end the Cold War, passed away on Friday at the age of 94, a family spokesperson confirmed. Bush governed the nation from 1989 to 1993.
The 41st president died at 10:10pm (local time) on Friday. Funeral arrangements will be announced some time later, the spokesperson for the Bush family, Jim McGrath, said in a statement.
Statement by the Office of George H. W. Bush on the passing of the 41st President of the United States of America this evening at 10:10pm CT at the age of 94. pic.twitter.com/XUPgha2aUW

— Jim McGrath (@jgm41) December 1, 2018
His health deteriorated in recent years, as he suffered from lower-body Parkinson's disease and was confined to a wheelchair. In April, Bush was discharged from a hospital after receiving treatment for low blood pressure.
Former US leader as well, George W. Bush, called his late father "a man of the highest character and the best dad a son or daughter could ask for."
Current President Donald Trump praised Bush for his "essential authenticity" and "disarming wit." His "unflappable leadership" brought the US and the world "to a peaceful and victorious conclusion of the Cold War," Trump said.
Among the many heads of state and senior foreign politicians who expressed condolences to the Bush family were French President Emmanuel Macron, German Foreign Minister Heiko Maas, Canadian Prime Minister Justin Trudeau, and Russian President Vladimir Putin.
Born in Milton, Massachusetts, in 1924, George Herbert Walker Bush came from a well-connected family. His father was a prominent banker who later became a US Senator.
Bush joined the Navy at 18, becoming one of its youngest fighter pilots in World War II. During the war, he flew multiple combat missions and was shot down at one point. Upon his return home, the young man was awarded with a Distinguished Flying Cross.
A Yale graduate, Bush spent two decades working in the oil industry before eventually entering politics.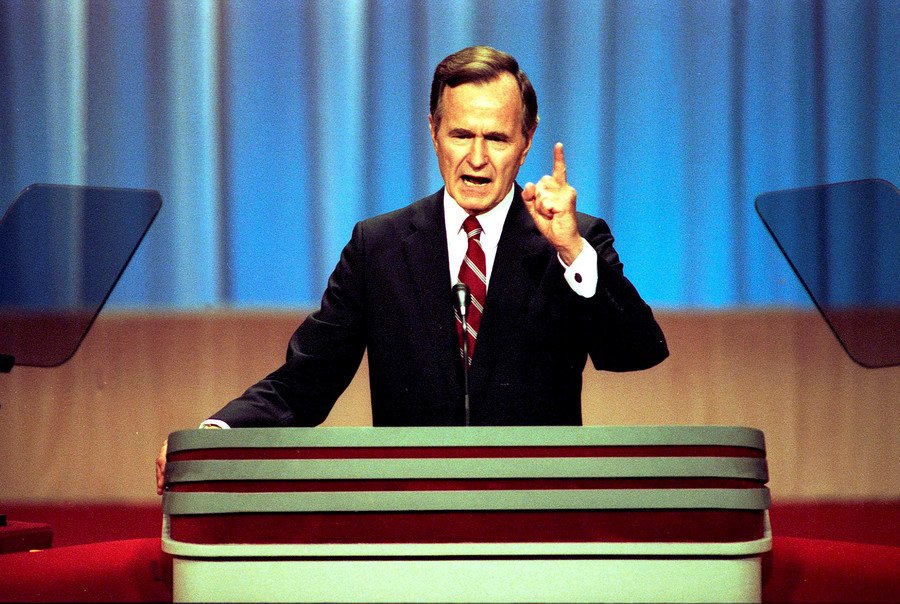 In 1967, Bush was elected to Congress. His career took a detour into the diplomatic front in 1971 when he was appointed the US envoy to the United Nations. He later held a diplomatic post in Beijing, and even led the CIA for a year.
Bush first moved into the White House in 1981 at the height of the Cold War, serving as vice president under Ronald Reagan. After assuming the presidency in 1989, Bush, along with Soviet leader Mikhail Gorbachev, helped to end the dangerous confrontation between the two superpowers.
In 1991, he led the nation during the Gulf War against Iraq after its leader Saddam Hussein invaded Kuwait the year before. Bush also launched a controversial invasion in Panama, dubbed 'Operation Just Cause', which ended in the ousting and arrest of the country's ruler, Manuel Noriega.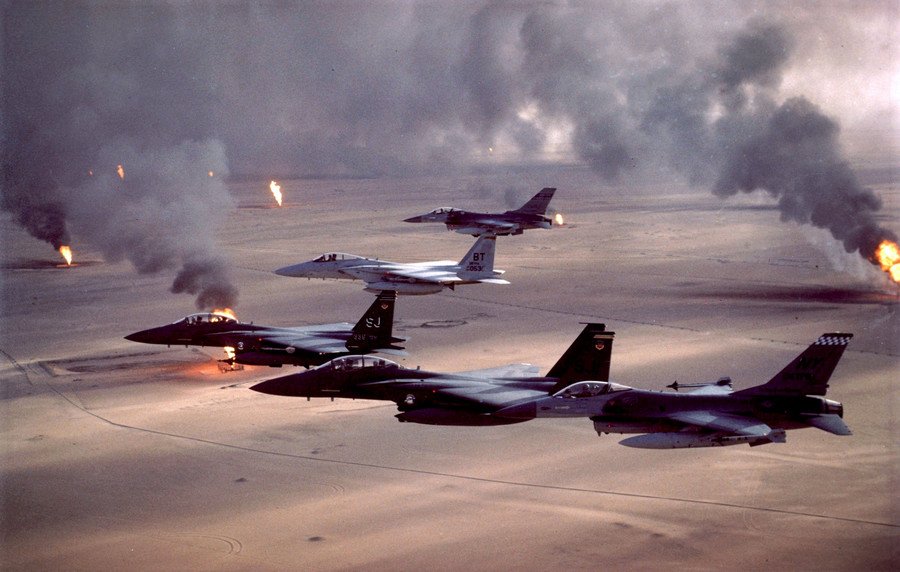 Despite victory overseas, Bush failed to secure a second term. In 1992, he lost to Democrat Bill Clinton. His "Read my lips: no new taxes" pledge, which he made during the previous presidential race, became a bitter symbol of broken campaign promises.
Shortly before leaving office, Bush signed the North American Free Trade Agreement (NAFTA) with Canada and Mexico. More than two decades later, Trump signed a trade deal to replace NAFTA, which he called a "disaster."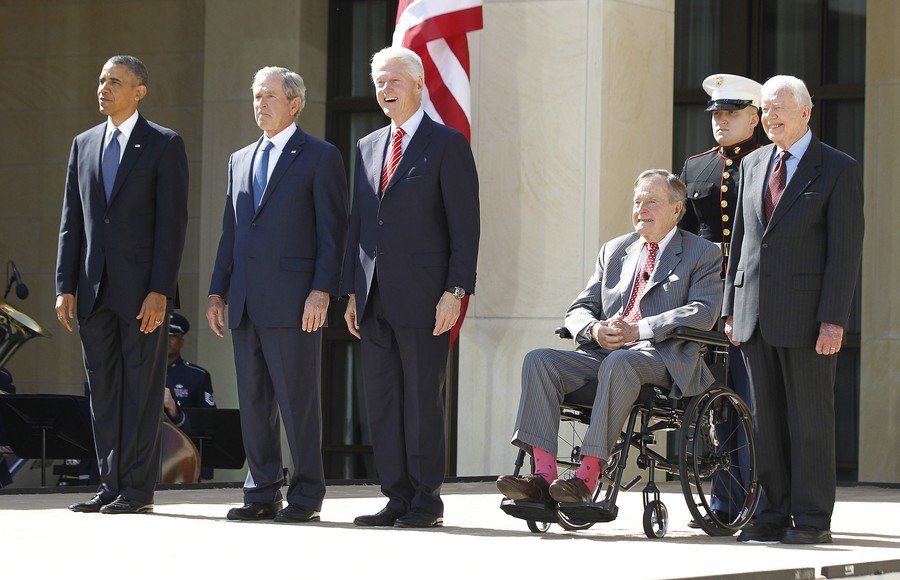 The former president tried to stay active, despite his numerous health problems. He celebrated his 80th, 85th, and 90th anniversaries by skydiving.
READ MORE: George HW Bush 'patted women's rears', his office says amid sexual assault allegations
Last year, Bush also had his own #MeToo moment: an actress accused him of telling "a dirty joke" and groping her during a meeting. Bush admitted that some of his actions may have been viewed as "inappropriate" and apologized.
George H.W. Bush's wife, Barbara, passed away in April. The couple was married for 73 years.
Think your friends would be interested? Share this story!
You can share this story on social media: