Top Gun joyride: Wing Commander nicknamed 'Snatch' forced to resign after using F16 for tryst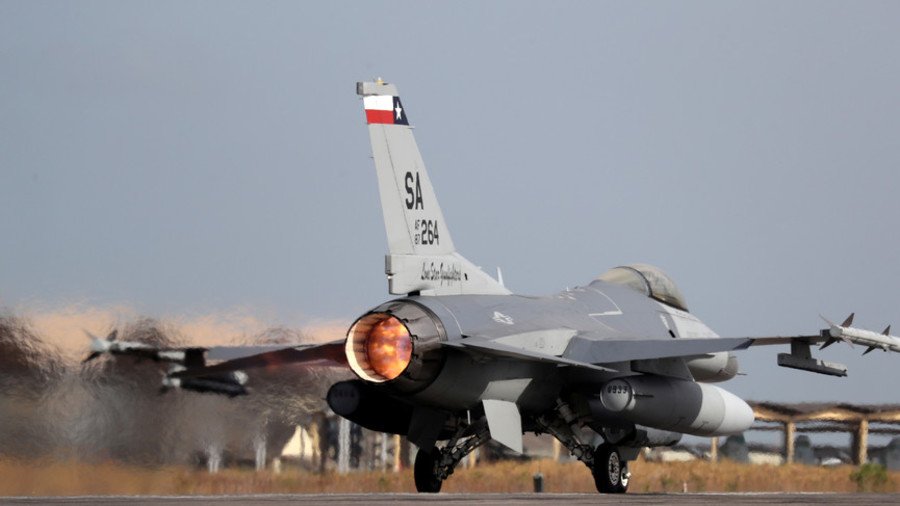 A Vermont National Guard colonel was reportedly forced to relinquish his command after authorities learned he'd mixed business with a little too much pleasure, seducing a female army colonel and flying out to meet her in an F-16.
Vermont National Guard Commander Thomas Jackman swapped emails with the unnamed woman for weeks, according to VTDigger, initially plotting to meet during a March 2015 anti-terrorism conference before seizing an opportunity to visit his Pentagon paramour during a conference two months earlier at Andrews Air Force Base. Jackman couldn't resist pulling rank just a little, taking the F-16 for the weekend instead of flying coach.
Jackman overcame all manner of adversity to reach his lady love. According to emails he wrote her, his plane broke down as he was scheduled to take off and the ground crew had to prepare another for him to use; a ferocious snowstorm shut down the runway at Joint Base Andrews in Maryland, where he had originally planned to land. His last email indicated he would fly to Langley and drive the rest of the way – 200 miles in a snowstorm. While Jackman had a wife back home, he was clearly a desperate man.
Also on rt.com
35 F-35s: Pentagon deploys swarm of fighter jets during massive airpower drill (PHOTO, VIDEO)
When his superiors discovered Jackman was up to some extracurricular activities, most likely due to his booking hotel rooms on either side of the conference night he was due to stay on the base at Andrews, the Guard seized all documents related to his trip, according to a National Guardsman who spoke to VTDigger. He was ordered to fly home to Burlington immediately – on a commercial flight. National Guard Lt. Col. Terry Moultrop, now retired but ironically the only man who could have vetoed Jackman's "borrowing" of the F-16, flew down to Andrews to retrieve Jackman's F-16 himself. Jackman was demoted from his wing commander post and replaced by Colonel Patrick "Pig" Guinee without the usual fanfare that accompanies such a promotion.
Jackman didn't quite escape unscathed, but he was informed of his "impending punishment" before the hammer came down, according to former Guard officials, and allowed to resign instead of being stripped of his pay and benefits. He even kept his top-secret security clearance, according to Guard sources familiar with the investigation.
While his colleagues try to put his behavior in context – "When we were deployed, every single one of us was a ladies man," one former Guard member told VTDigger – Jackman had a reputation above and beyond the other airmen. His call sign, much to the amusement of the woman he met in Washington, was "Snatch."
Jackman now works as a postmaster in Waterbury, Vermont, where he is also a member of the Green Mountain Council of the Boy Scouts of America. Jackman, for his part, denies involvement with the female army colonel but offered "no comment" when asked if he was forced to retire because of his F-16 trip to Washington.
Like this story? Share it with a friend!
You can share this story on social media: