Active shooter report puts largest US military medical center on lockdown
Published time: 27 Nov, 2018 19:51
Edited time: 28 Nov, 2018 08:30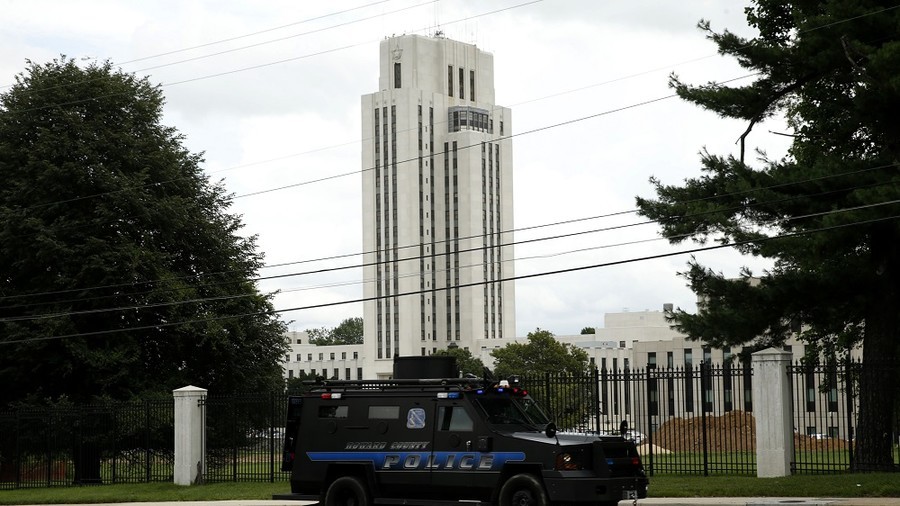 Heavily armed police placed Walter Reed Medical Center in Bethesda, Maryland on lockdown due to reports of an active shooter at the principal US military hospital. The all-clear was given after an hour, when no shooter was found.
"The all clear has been given. No active shooter was found. Personnel may now move freely about the base," the military announced at 3:20 pm local time on Tuesday, just over an hour after the alert went out.
Patients and staff at the facility were ordered to stay inside and lock the doors, while social media reacted with dismay and alarm at the report of a possible shooting.
Maryland Congressman Dutch Ruppersberger was attending a meeting on the grounds and tweeted about the active shooter alert.
Heavily armed police combed the area looking for any sign of the reported shooter.
According to a text alert circulated among staff, they were to "lock all doors, turn off all lights" and stay in a secure location until otherwise notified.
Building 19, where the initial 'shots fired' report came from, has been cleared and there was no indication of a shooter so far, local media reported, citing the military. The complex remained on lockdown for over an hour, however.
Rep. Ruppersberger told his staff that the mood inside was "calm" and that he did not believe this was a drill.
The complex was previously known as the National Naval Medical Center or Bethesda Naval Hospital, until it was merged in 2011 with the Army medical center named after Dr. Walter Reed.
The most recent active shooter lockdown at the facility was in July 2015. It turned out to be a false alarm.
Think your friends would be interested? Share this story!