False alarm: Lockdown lifted at Walter Reed military hospital after report of gunshot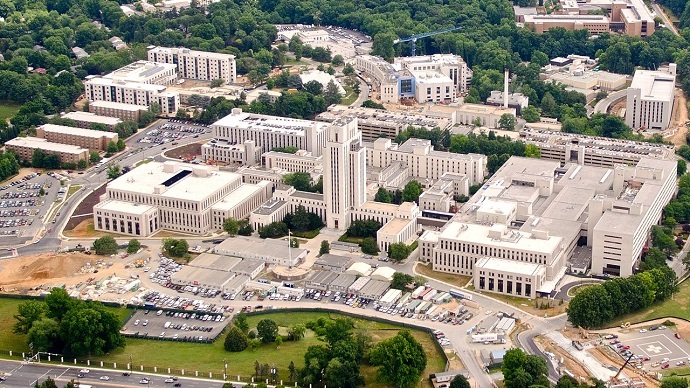 Walter Reed National Military Medical Center just outside Washington, DC was locked down as police investigated a report of an active shooter. The hospital provides long-term care for wounded veterans, including those with post-traumatic stress disorder.
Shortly before 1 p.m. local time, federal law enforcement told the media they received an order to stand down, after finding "no indication of a shooter."
#WalterReedGunshot buildings/rooftops being searched/evacuated by SWAT, huge response #BREAKINGpic.twitter.com/44ECJpS1rT

— Brad Freitas (@NewsChopperBrad) July 6, 2015
A single gunshot on the premises was reported around 10:40 a.m. Employees were given a "Code White" message, instructing them to shelter in place. The campus was placed on lockdown, and there was a heavy law enforcement presence in the area, blocking several major roads.
Police were combing through the 243-acre campus, looking for the reported shooter.
"The complaint was pinpointed to the high rise, the 22-story building on campus. about half an hour ago, they only had five stories left to search," Montgomery County Police Department Captain Paul Starks told reporters. "Once that search is concluded, k9s trained in the detection of explosive devices will be deployed throughout the building."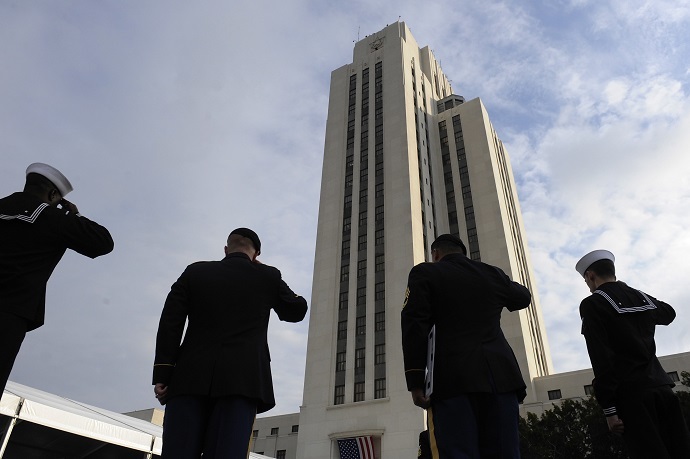 There is "no indication of any kind that there was a shooting, but we're not leaving yet," Starks added.
The military hospital, located in the iconic 20-story high-rise known as Building 1, houses 7,000 staff members on a normal day, but likely had fewer employees due to vacations over the summer and the long weekend.
@nbcwashington Am I glad I took today off. I would have been a part of this chaos! #WTH

— Mish (@mish2260) July 6, 2015
Non-emergency patients are being asked not to head to the Bethesda, Maryland campus.
"If you're a patient, we're asking you to treat it like a snow day. all non-emergency is suspended for the remainder of the day," Sandy Dean, a Walter Reed public affairs officer, told WRC.
All patient care at the Walter Reed facility has been suspended for today.

— Montgomery Co Police (@mcpnews) July 6, 2015
The police search of Building 1 was completed by 1:30 p.m., but the lockdown was not lifted, Montgomery County PD tweeted. A follow-up tweet just before 2:00 p.m. indicated that normal operations were expected to resume "soon."
RECAP cont: no evidence of gunshots and no injuries reported. Search of tower completed at approx 130pm

— Montgomery Co Police (@mcpnews) July 6, 2015
Walter Reed UPDATE: Police operations are complete, there is no evidence of a firearm discharge. Normal operations expected to resume soon

— Montgomery Co Police (@mcpnews) July 6, 2015
One northbound lane and two southbound lanes of Maryland Rte. 355, a busy six-lane road, were reopened by that time.
The all-clear came from Walter Reed, which is part of the larger Naval Support Activity Bethesda, at 2:12 p.m.
UPDATE: #USNavy confirms all clear at #WalterReed / Naval Support Activity Bethesda. Police found no evidence of gunshot. No injuries.

— U.S. Navy (@USNavy) July 6, 2015
Walter Reed serves as the headquarters for the Joint Task Force National Capital Region/Medical, and is one of the country's most prominent military hospitals. The campus provides long-term treatment for wounded troops and hosts injured service members' families. Walter Reed also provides care for the president and vice president of the United States, members of Congress and Supreme Court justices.
Lockdown continues at Walter Reed Medical Center http://t.co/aEXfxgaLMS

— Marine Corps Times (@Marinetimes) July 6, 2015
A loudspeaker announcement shortly before noon indicated the situation might be a test. One employee told a local media reporter that Walter Reed practices "Code White" at least once a year. However, police never confirmed that the incident was a drill.
Hundreds of local, federal and military law enforcement agents were in the area, with helicopters flying over the campus. Police from the National Institutes of Health (NIH), which is located across Rte. 355 from Walter Reed, were assisting with the search. Several entrances to the NIH campus were closed due to the police presence; all gates there have since reopened.
No suspicious activity found/reported since initial 911 call at 10:48am. Metro police, @mcpnews and others on scene pic.twitter.com/X3VXaYuJmB

— Simone Del Rosario (@SimoneReports) July 6, 2015
Last week, an "ear witness" reported a gunshot at the Navy Yard in Washington, DC, where a gunman killed 12 workers in 2013. After a three-hour lockdown, the police found no evidence of a shooter or a shooting.
"[We're] very happy this turns out to be a great exercise for us to see that we fixed what we wanted to fix, and nobody is hurt, and no evidence of any shots fired," said DC Police Chief Cathy Lanier at a news conference at the Navy Yard, following the lockdown last Thursday.
Walter Reed's Building 1 is the location of the original hospital building on the campus, which was known as Bethesda National Naval Medical Center until 2011. President Franklin Delano Roosevelt laid the cornerstone of the tower on November 11, 1940.