FBI releases haunting video of armed Aaron Alexis prowling through DC Navy Yard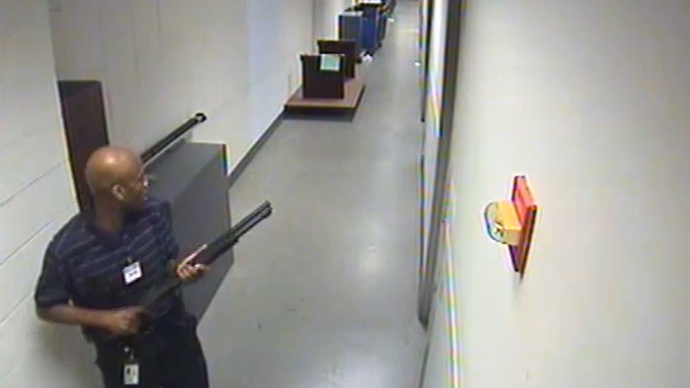 The Federal Bureau of Investigation has released a short surveillance video of Aaron Alexis entering and sneaking through the Washington DC Navy Yard last week armed with a shotgun just prior to killing 12 people.
The 31-second video, spliced together from CCTV images captured on the morning of September 16, show Alexis' blue rental car driving into a parking garage across from Building #197 at 7:53 am EST. He then entered Building #197 on foot carrying a backpack, taking the elevator to the fourth floor, according to a timeline also released by the FBI on Wednesday.
 Alexis, 34, shot the first victim at 8:16, seven minutes after he went into the bathroom and just over an hour before police shot and killed the former government contractor on the third floor.
Valerie Parlave, the assistant director in charge of the FBI's Washington field office, told the Washington Post Alexis was involved in a workplace dispute the Friday before the shooting though there was no evidence he specifically targeted "anyone he worked for or worked with" in the shooting. Upon later examination, information on Alexis' phone and laptop indicated he was "prepared to die during the attack and that he accepted death as the inevitable consequence of his actions."
The FBI also published photos of the sawed-off Remington 870 shotgun Alexis used in the shooting. Etchings on the sides of the firearm receiver read "Better off this way," "My ELF weapon," and "Not what yall say." An etching on the barrel of the weapon said "End to the torment!"
While FBI officials have said they will continue to examine the mental delusions that set Alexis on his "pathway to violence," the etchings and data on his laptop prove that Alexis thought his mind was being manipulated by extremely low frequency (ELF) electromagnetic waves. The Navy has studied the signals in the past but such technology is often found at the center of anti-government conspiracy theories, the FBI said.
"Ultra-low frequency attack is what I've been subject to for the last three months," Alexis is quoted saying in one message, "and to be perfectly honest that is what has driven me to this."