Washington Navy Yard gets 'all clear' after shooting false alarm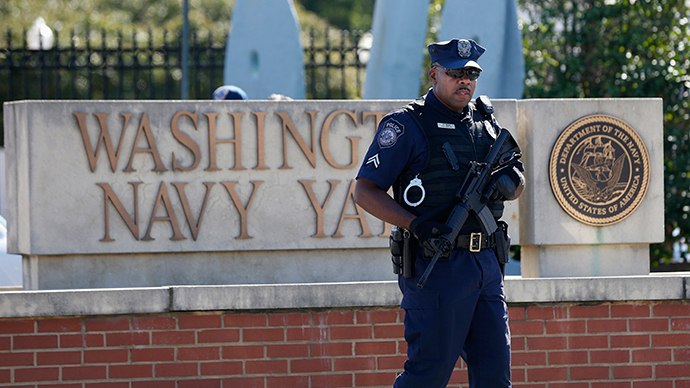 The Washington Navy Yard, locked down for hours after police responded to reports of a gunman in the facility, has now reopened. The authorities issued an "all clear" after police found no evidence of a shooter at the complex.
The police held an investigation into the incident and after being closed off for around 2 1/2 hours, the lockdown was lifted just after 10:00 local time (14:00 GMT). A spokeswoman said that the Navy would carry out further inquiries into what had happened.
A US official who spoke on condition of anonymity said that Navy security saw surveillance video of two people jumping the fence in the vicinity of the building a couple of minutes before the first report of gunfire. However, following a sweep by security, no one was found inside the Navy Yard's Building 197, where the shots were allegedly heard.
U.S. Capitol Police have concluded their investigation of the Washington #NavyYard incident. The incident is all clear.

— SenateSergeantAtArms (@SenateSAA) July 2, 2015
.In September 2013, Aaron Alexis went on a killing spree at the Navy Yard, killing 12 people. He was eventually shot dead by police. That incident also happened in Building 197.
A Pentagon official said that the lockdown was implemented following an account of one "ear witness" who thought she had heard a gunshot and had proceeded to report the event, a CBS employee tweeted.
#BREAKING: Pentagon official says it was based on the report of one "ear witness" who thought she heard a gunshot and reported it

— Yan Kaner (@Ykaner89) July 2, 2015
One witness, Lieutenant Commander Scott Williams, told Reuters that police came into his office at about 07:30 local time (11:30 GMT) and escorted him and his colleagues out of the building.
"It was pretty much a mirror image of what happened in 2013," he said. "Here we go again."
#BREAKING: Several police armed police officers ran from #NavyYard into apartment building at 300 M Street.

— ABC7News (@ABC7News) July 2, 2015
However, Williams did mention that security had been increased significantly since 2013, with more bag and ID checks carried out by security personnel. He said police seemed very well coordinated. "It's obvious they learned from last time," he said.
A massive police operation ensued, with numerous streets closed off in the vicinity of the Navy Yard, which is about 3 miles from the White House.
BREAKING: Official: No evidence of shooting, no arrests, no weapons after report of shots at Navy Yard.

— The Associated Press (@AP) July 2, 2015
Meanwhile, the Department of Homeland Security and the FBI had issued an alert calling for local authorities and the public to remain vigilant for possible threats over the upcoming July 4 Independence Day holiday weekend.
#NavyYardActiveShooter automatic announcements in the background of the room where 80+ people are sheltering.

— Nancy C. McCord (@mccordweb) July 2, 2015
Numerous unconfirmed reports appeared from various media sources as the lockdown was in place, with Fox News even reporting that there could be at least one victim, before it turned out the incident was a false alarm.
#NavyYard on lockdown. Keep it to @WNEW for more information. pic.twitter.com/OVNAJJKcOM

— PJ Elliott (@PJElliottRadio) July 2, 2015
Shooting at navy yard pic.twitter.com/G7o2qodHL9

— Glennard Peret (@Glennard500) July 2, 2015
The naval facility, the country's oldest naval installation, is located on the Anacostia River, less than a mile south of the US Capitol.
#BREAKING: US Park Police confirms they are responding to #NavyYard for a report of active shooter. No casualties at this time. @wusa9

— Susan Phillips (@Starbuck1004) July 2, 2015
Scene in Washington DC where police are investigating an active shooter at Navy Yard. 12 killed here in 2013 pic.twitter.com/nGsL8NXJTp

— Mike Hoss WWL-TV (@MHossWWL) July 2, 2015
.