Black Friday brings out the crazy carnage once again (PHOTOS, VIDEOS)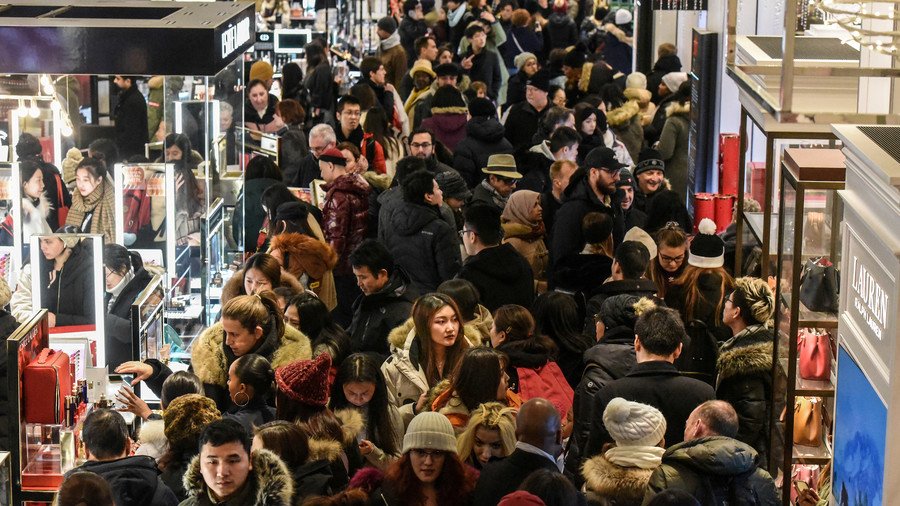 You'd be forgiven for thinking internet shopping has made night-long queues in the November cold and frenzied fights over discounted TV-sets things of the past – but you'd be wrong. Black Friday traditions are stronger than that.
It's the year 2018 and while online retail giants like Amazon continue to kick the proverbial ass and take names of bricks and mortar stores, it appears thousands of old-school shoppers still enjoy the adrenaline and satisfaction of literally chasing a bargain.
Sadly, the chaos once reserved for Black Friday has leaked into Thanksgiving Thursday. The day intended to be spent with loved ones over turkey dinner, has been somewhat overshadowed by the department store race to pull in the first customers.
Target opened their doors to Black Friday shoppers at 5pm on Thursday, Walmart was open since dawn but their prices didn't drop until 6pm on Thanksgiving. Macy's flagship store in Manhattan stayed open all night and was packed with shoppers by early Friday morning.
As temperatures dropped to below freezing, shoppers were captured sitting on camping chairs wrapped in blankets while they waited for Best Buy to open in Washington, DC. On Friday morning over 2,500 shoppers had lined up outside The Mall of America in Bloomington, Minnesota.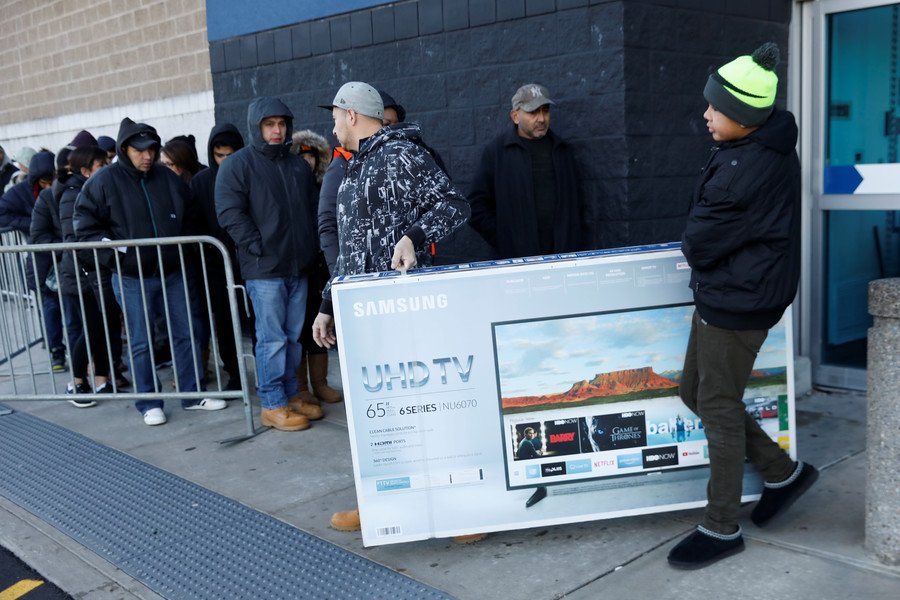 READ MORE: 'We're not robots': Amazon employees protest across Europe on Black Friday (VIDEO)
However, a deep-dive into today's best-of-the-worst shows that Walmart unequivocally hit the top spot for carnage. Stores resembled zoos as bargain hunters literally stampeded through the aisles and tore at each other over appliances.
#Walmart was insane tonight. 2 fist fights employee hit with a rack all over a tv. That was all while trying to get down one aisle. #BlackFriday is not for me

— stephen pollock (@stephenpollock3) November 23, 2018
Women were filmed wrestling over pots and pans while men were captured balancing their shopping carts stacked with TV screens. The chain tried their best to herd the crowds by rearranging stores, blocking off aisles, taping arrows to the floor and handing out colour-coded maps. Unsurprisingly, the system appeared to cause further delays and piss off impatient shoppers even more.
It was a total joke. We were in and out of @Target in under 15 mins but at @Walmart it took then 30 minutes to realize nobody made it to the checkouts because we were all stuck in the maze and nobody could move. They finally opened spots for us to make it to the registers.

— Matt Paschke (@mpaschke13) November 23, 2018
Walmart was a mess! it felt like a maze with all the black friday boxes everywhere!

— Arti The Choke🗿C.H👅🍆 (@Cumm_Dumpster69) November 22, 2018
I just went to Walmart like some nut to look at Christmas decorations they wouldn't let people go down certain aisles. It was miserable and guess what I didn't buy a thing! I should have known better.

— JANICE COMBS (@jicombs) November 22, 2018
According to Reuters, 38 percent of Americans were expected to hit stores on Friday, with 60 percent of them estimated to complete half of their holiday shopping, giving retailers a strong start to their make-or-break holiday season.
Like this story? Share it with a friend!
You can share this story on social media: