Will this one get to Trump? Author Jerome Corsi negotiating plea deal with Mueller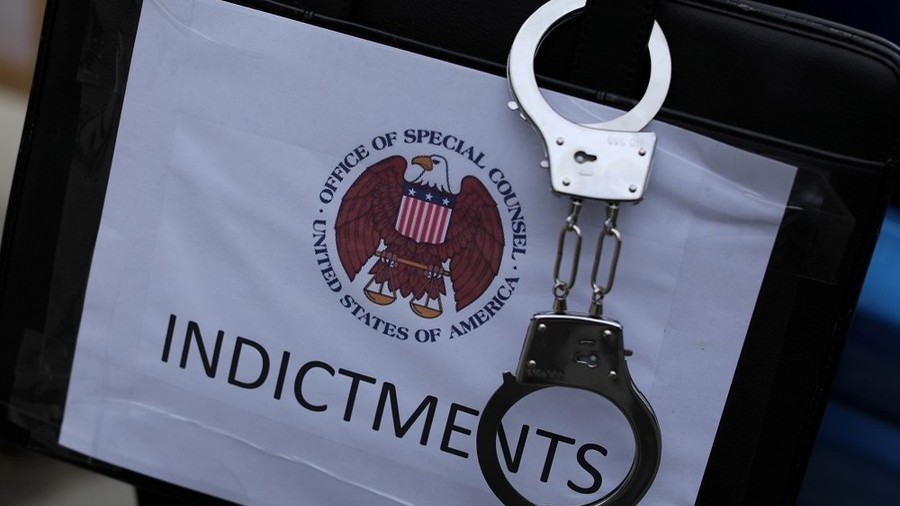 Prolific conspiracy theory author Jerome Corsi is negotiating a plea deal with special counsel Robert Mueller, prompting excited speculation by the anti-Trump #Resistance and concerns over pressuring journalists.
Mueller's investigators have reportedly spent months investigating whether Corsi had advance knowledge that WikiLeaks would be publishing emails from the private account of Hillary Clinton's campaign chairman John Podesta, and shared that knowledge with Roger Stone, described as an "associate" of then-candidate Donald Trump.
Without offering any evidence, US intelligence agencies have claimed that Russian intelligence agents hacked Podesta's emails and used WikiLeaks as a "cutout" to publish them in October 2016. Mueller is investigating allegations by Clinton's camp that Trump "colluded" with Russia to steal the presidential election.
Corsi is reportedly in negotiations to strike a plea deal with Mueller over perjury charges. This has been met with excitement among the president's critics, convinced that this time, Trump will be hounded out of office somehow.
So far, none of the people who have made deals with Mueller have "flipped" on the president, however, and the charges against them have all been for process crimes such as lying to the FBI. The only case to see trial has been against Trump's former campaign manager Paul Manafort, and even those charges had nothing to do with the 2016 election or Russia, but focused instead on allegations of tax evasion on profits from his lobbying work in Ukraine.
In recent weeks, the probe seemed to focus on Stone, Corsi and radio host Randy Credico, all in an apparent effort to show people supposedly associated with Trump knew the WikiLeaks dump of Podesta emails was coming. By October 2016, Stone had not worked for Trump's campaign for over a year.
Also on rt.com
Trump hands over written responses to Mueller's Russia probe questions
"This was one of the most confusing and frightening things I've experienced. I'm 72 [years [old] and I'm afraid they're going to lock me up and put me in solitary confinement," Corsi told NBC News in a November 12 phone interview, amid speculation he was on a secret Mueller indictment.
Corsi has a colorful history of writing on the subject of conspiracy theories regarding the 9/11 terrorist attacks, the birth certificate of former President Barack Obama, and former Democrat presidential candidate John Kerry's history of "Swift Boat" service in the Vietnam War.
Journalists both on the left and on the right have wondered if Mueller's treatment of Corsi was setting up a chilling precedent for going after journalists to reveal their sources.
President Trump has repeatedly called the Mueller probe a "witch hunt" by "angry Democrats," insisting that there was no collusion between his campaign and anyone and that he won the election fair and square.
Like this story? Share it with a friend!