Trump hands over written responses to Mueller's Russia probe questions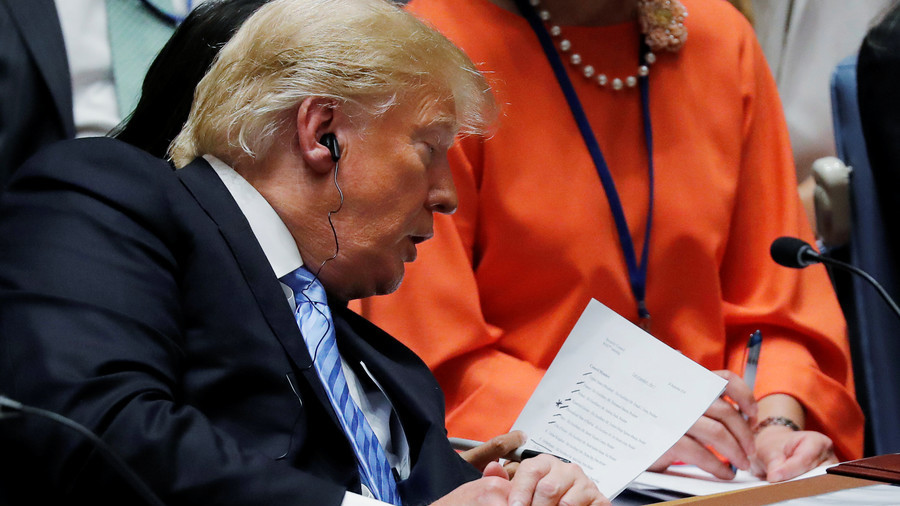 A lawyer for Donald Trump has confirmed that the US President has submitted answers to the questions penned by FBI Special Counsel Robert Mueller's team. The questions refer to the Trump campaign's alleged collusion with Moscow.
"The president today answered written questions submitted by the special counsel's office," Trump's attorney Jay Sekulow said in a statement, as cited by AP.
The issues Trump covered in his responses are "the Russia-related topics of the inquiry," Sekulow said. Trump's legal team has indicated that the president would not answer any additional questions aside from potential follow-ups. Likewise, Trump is not expected to answer any questions that refer to allegations of obstruction of justice, with his lawyers insisting that the constitution protects the sitting President from answering questions on policies he conducted while in office.
Trump's personal lawyer Rudi Giuliani said Tuesday, that "much of what has been asked raised serious constitutional issues and was beyond the scope of a legitimate inquiry," without elaborating.
Giuliani has not ruled out that Trump might answer further questions if forwarded by Mueller, but said that it is "unlikely we will answer any more questions."
The contents of both the answers and the questions themselves will not be made public, Sekulow said.
Speaking to reporters on Friday, Trump said he prepared the answers himself, and that it did not take him "very long."
READ MORE: Mueller again? Trump bashes 'disgraceful' Russia probe
The written answers submitted by Trump Tuesday have the same legal implications as an oral testimony, meaning that if the statements are proven false, he might be accused of perjury.
Trump's cooperation with Mueller's office has been seen as a compromise. The president's attitude toward a potential face-to-face interview with the federal prosecutor has shifted over time. Back in January Trump said that he was "looking forward" to speaking under oath. He doubled down in May, saying that he "would love" to sit down for an interview with Mueller "if treated fairly." There have been reports, however, that the president's legal team has been staunchly opposed to a personal encounter between Trump and Mueller and eventually talked the president out of it.
The personal interview might still happen if Mueller's office issues a subpoena for Trump to testify. However, it would first need to be signed off on by the Acting Attorney General, the probe's well-known critic Matthew Whitaker, and even then it could be thrown out by the Supreme Court.
Think your friends would be interested? Share this story!
You can share this story on social media: