Fox News apologizes for panelist comparing Clinton to 'herpes' that 'won't go away'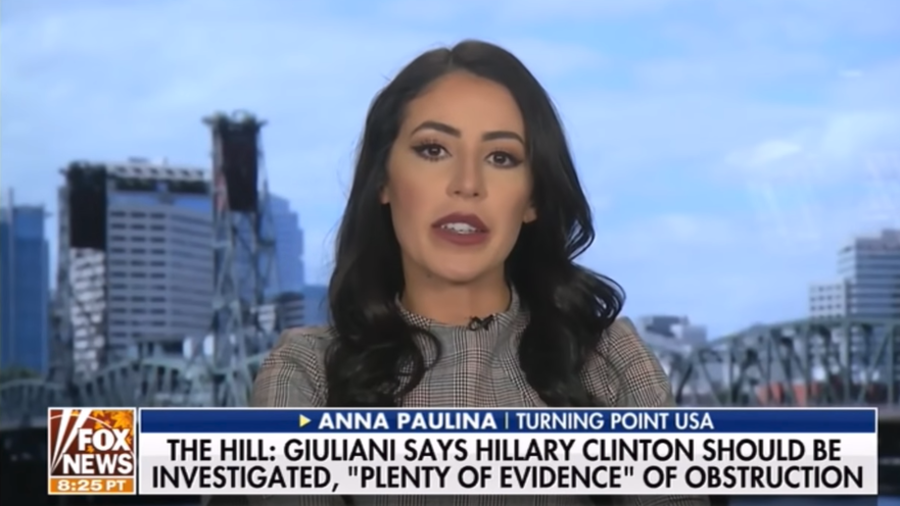 In a display of journalistic decency rare on modern-day TV, Fox News host Rick Leventhal has issued an on-air apology and cut off his guest after she called Hillary Clinton "herpes" who just won't "go away" from the news.
This episode of self-censure, uncharacteristic of the current US media climate, took place as Fox News reported on House Republicans subpoenaing Former FBI Director James Comey and Obama administration Attorney General Loretta Lynch. The former officials were called to testify in connection with the investigation into Clinton's misuse of a private email server. While Clinton argues that the reopening of the FBI probe into her server weeks before the election might have cost her the victory, Republicans now want to grill Comey over abuse of investigative powers, obstruction of justice and leaking classified info to media.
With Clinton's seemingly never-ending email saga back in the news, Fox News invited the Director of Spanish Engagement for the right-wing NGO Turning Point USA, Anna Paulina, to give her insight on the reinvigorated controversy.
Paulina was off to a shaky start right away, beginning to talk about Trump's decision to send active-duty troops and the National Guard to the US-Mexican border, instead of actually commenting on Clinton.
After being interrupted by Leventhal, who chuckled that he was "amazed" that Clinton was still relevant, Paulina echoed his words – in essence. Her wording, however, was a bit over the line.
READ MORE: 'I've been used!' Kanye West quits politics, CNN goes into withdrawal
"She won't go away, she's like herpes," she said. Leventhal, visibly taken aback, and immediately issued an on-air apology, calling the remark "not appropriate."
"We are going to wrap this segment a little bit early because of the language that was used in the segment, and we apologize to our viewers for that," he said as Paulina was cut off.
While the moment of civility might have been seen as simply a bout of good-natured holiday spirit, Fox News did not stop their repentance there. Anchor Arthel Neville then extended another apology, this time addressing Clinton directly.
"We are all Americans, and that is the focus and we want to reiterate that we do not condone the language that Anna Paulina just displayed here, and we apologize to Secretary Clinton for that," Neville said.
Many on social media applauded the gallantry shown by Fox News – a station not exactly known for its admiration of Clinton. Some, however, said that this was no way to treat a right-wing commentator, arguing their liberal peers would have rejoiced at the vile remarks if made towards President Donald Trump.
"She won't go away, she's like herpes "....Anna Paulina, in reference to Hillary. Fox cut her off as inappropriate? Have they ever listened to "Morning Joe" or "Don Lemon"???? Then they apologized to "Secretary Clinton"! For what? She IS like herpes!! TY ANNA PAULINA! Not sorry!

— Martin (@RogueLazarus) November 22, 2018
Journalist just referred to Hillary Clinton as 'herpes' on FoxFox Host immediately shut her down, booted her, apologized for the language Thinking out loud, but had a contributor equated Trump to herpes on any other network, they'd be hailed a hero, possibly offered a show 🤔

— Chet Cannon (@Chet_Cannon) November 22, 2018
To be fair, CNN did apologize for its anti-Trump political commentator and journalist Julia Ioffe after she said on air that Trump "has radicalized so many more people than ISIS ever did." Ioffe later issued a public apology herself.
However, there is still no apology from CNN for calling rapper Kanye West a "token negro" for his pro-Trump stance.
The toxicity of US politics is reflected in the polarized media and hosts seldom mince words when digging at politicians they dislike, but some red lines should probably not be crossed – one of these being racism. The attack on Kanye, made by Political commentator Tara Setmayer on 'CNN Tonight' hosted by Don Lemon, is seen by many as a classic example. Instead of reprimanding Setmayer, Lemon seemed to agree as another pundit, Bakari Sellers, quipped: "Kanye West is what happens when Negroes don't read."
Conservative Twitter was incensed, while Lemon decided to double down, calling the Grammy-winning rapper a "Minstrel show" and saying his dead mother was "rolling over in her grave."
If you like this story, share it with a friend!
You can share this story on social media: