'I'm a f***in killer': Rapper facing racketeering charge just plays a gangster, lawyer says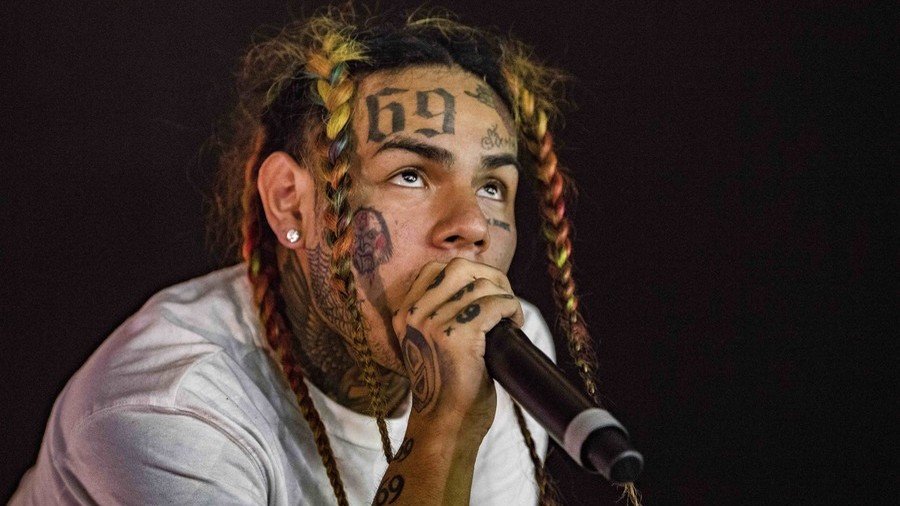 Rapper Tekashi 6ix9ine is facing serious racketeering and firearms charges in New York. But it's okay, his lawyer says, he just plays a gangster to sell music. Co-rapper Nicki Minaj has stuck by the legally-embattled emcee.
Tekashi 6ix9ine, whose real name is the more pronounceable Daniel Hernandez, has been sitting in a Brooklyn jail since Sunday. Federal agents say he's a member of the dangerous Bloods gang who possessed unlawful firearms, and participated in a shooting and an armed robbery.
Hernandez faces a mandatory minimum of 32 years in prison if convicted, and may be handed a life sentence. He has been denied bail, even after offering to relinquish his passport, as federal judge Henry Pitman considered him a threat to society if let loose.
According to his lawyer though, it's all an act.
"An entertainer who portrays a 'gangster image' to promote his music does not make him a member of an enterprise," attorney Lance Lazzaro said, claiming that Hernandez is "completely innocent."
Hernandez certainly plays the gangster with conviction. The tattooed rapper has publicly identified himself as a member of New York's violent '9 Trey Bloods' gang, and appears in the gang's signature red bandana in music videos.
Prosecutors say that his lyrics "promoted and celebrated" criminal conduct, including "narcotics distribution, acts involving violence, and the use of firearms." Either way, they don't help his case.
After all, it will surely prove difficult for a man, who once rapped "Whole squad full of killers, I'm a f***in killer too," to prove his innocence.
Likewise, lyrics like "These n***as say they heard of me, I ain't heard of you. Get the f*** up out my f***ing face, 'fore I murder you" don't exactly scream 'boy scout.'
And who could forget such classics as "shoot you while you with your b*tch then it's back to mackin', Police pull up on me, I don't know what happened"
6ix9ine lyrics: You niggas talk about killin but I really fuckin do itMe: haha cool6ix9ine : I am actually a murderer for real I have killed people like really thoughMe: Haha nice song6ix9ine: *Is arrested for crimes*Me: pic.twitter.com/Bxa4yHDj7N

— Knight of the Six Counties (@dampab) November 20, 2018
What happened, prosecutors say, is that Hernandez helped plan a robbery in April, and sat in a car video recording the incident as his fellow gang members held up the victim at gunpoint. They also claim that among other gang crimes, Hernandez ordered a hit on a rival who disrespected them, an order that saw an innocent bystander get shot.
Four of Hernandez' associates – ex-manager Kifano 'Shottie' Jordan, Faheem 'Crippy' Walter, Jensel 'Ish' Butler and Jamel 'Mel Murda' Jones – were also arrested on Sunday, and face similar charges, as well as drug charges for allegedly selling heroin, MDMA, cannabis, and deadly synthetic opioid fentanyl.
Hernandez claims he met 'Shottie' and the other co-defendants at a concert last year, and hired them as his manager and security detail. In a recent Instagram video, Hernandez said that he has subsequently fired the group, after he caught them stealing from him.
Throughout his short career, the 22-year-old rapper has spent much of his time on the wrong side of the law. Hernandez served jail time, as a minor, for assault and sale of heroin, and recently pleaded guilty to disorderly conduct at a traffic stop in May.
In addition, Hernandez is currently on probation for groping and making sexually explicit gestures at a 13-year-old girl in a music video shot in 2015. Associating with gang members and committing other crimes are violations of his parole. If found guilty of the latest charges, Hernandez will also face the shame of registering as a sex offender, under the conditions of a plea deal.
Nevertheless, 6ix9ine still has a few fans. Nicki Minaj, who collaborated with Hernandez on her song 'FEFE' this August, sent words of support for the arrested emcee on Wednesday.
"Danny, I love you and am praying for you, your Mother, daughter & her Mom during this time," the 'Stupid Ho' singer wrote on Instagram.
Like this story? Share it with a friend!
You can share this story on social media: