El Chapo's phenomenal diamond encrusted pistol finally revealed (PHOTO)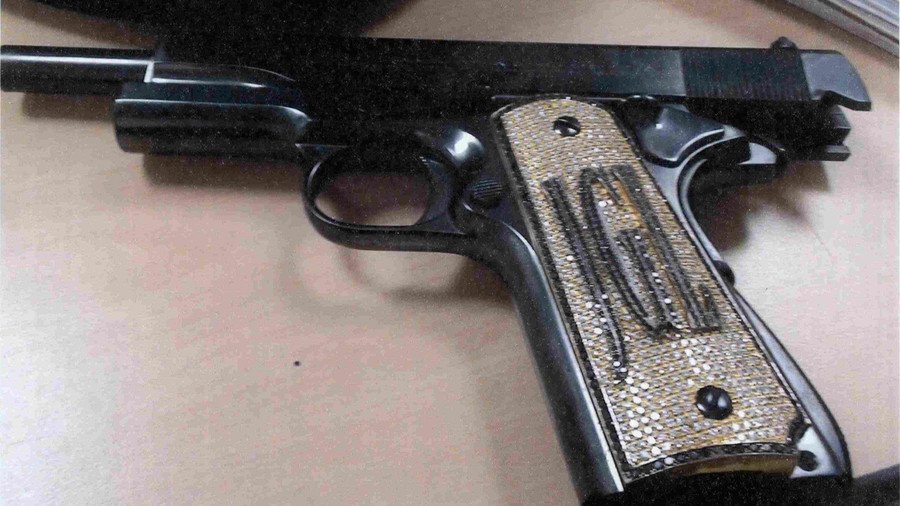 A photograph of Joaquin 'El Chapo' Guzman's infamous gold and diamond pistol was shown in court by a fellow drug trafficker during his testimony against the accused Mexican drug lord in New York.
Government witness and former cartel lieutenant Jesus 'El Ray' Zambada claimed the drug kingpin often boasted about his love for guns, including his favorite - a blinged-out Colt 38 black pistol embossed with the initials 'JGL'.
"On the handle were diamonds," El Ray added.
Zambada described the embellished weapon on the third day of El Chapo's trial for a slew of drug-trafficking charges as the head of one of the most powerful cartels in the world.
READ MORE: 49 years in prison, $192m fine: Life of crime catches up on El Chapo's former ally, La Barbie
When he was free, El Chapo was protected by between 30 and 40 heavily-armed security guards, reports El Universal. The defense has argued that Zambada, and other cooperators like him, are framing Guzman for leniency in their own criminal cases.
Like this story? Share it with a friend!
You can share this story on social media: