'Dangerous disgrace': Trump mulls breaking up 9th Circuit, hits back at SCOTUS chief justice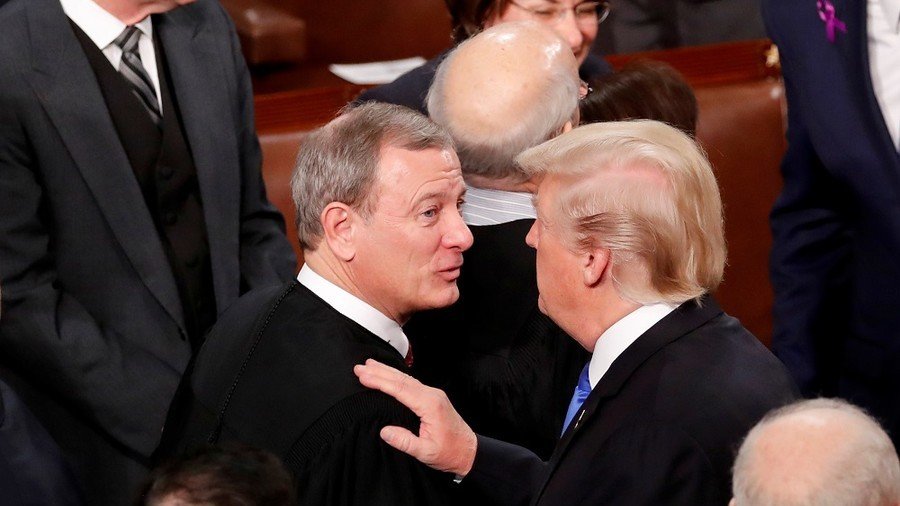 Calling a federal appeals circuit a "terrible, costly and dangerous disgrace," US president Donald Trump speculated about breaking it up, just hours after sparring with Chief Justice John Roberts about judicial independence.
Tweeting from Florida on Wednesday afternoon, the president repeated a claim he made before, that almost 80 percent of 9th Circuit rulings have been overturned at the Supreme Court, and argued the appeals body had become a "dumping ground for certain lawyers looking for easy wins and delays."
On Monday, a federal district judge in San Francisco blocked the Trump administration's rules about refusing asylum to applicants who do not enter the US legally, after the American Civil Liberties Union and several migrant activist groups sued on behalf of the "caravan" of Central Americans currently at the US-Mexican border.
The Department of Justice called the ruling "absurd" and vowed to appeal it before the 9th Circuit. This would set up a repeat of the "travel ban" case, initially blocked by a federal judge in Hawaii and upheld by the 9th Circuit before the Supreme Court ruled in Trump's favor some 16 months later.
On Tuesday, Trump joked about federal judges and the 9th Circuit during the traditional turkey pardoning ceremony at the White House, and vented about the "Obama judge" in a quick press conference before departing for Florida for the Thanksgiving holiday.
That got the goat of Supreme Court Chief Justice John Roberts, who issued a statement on Wednesday insisting that the US judiciary was nonpartisan and independent.
"We do not have Obama judges or Trump judges, Bush judges or Clinton judges. What we have is an extraordinary group of dedicated judges doing their level best to do equal right to those appearing before them," Roberts said. "The independent judiciary is something we should all be thankful for."
The unusual foray into politics by Roberts escalated when Trump took issue with it.
"Sorry Chief Justice John Roberts, but you do indeed have 'Obama judges,' and they have a much different point of view than the people who are charged with the safety of our country," the president tweeted on Wednesday.
It would be great if the 9th Circuit was independent, Trump continued, pointing out that most of the challenges to his border security policies have been filed there and calling the circuit's rulings very "dangerous and unwise."
In another tweet, Trump declared that judicial activism "by people who know nothing about security and the safety of our citizens, is putting our country in great danger. Not good!"
He followed this by declaring the 9th Circuit "too big" and adding there was talk of breaking it up. The 9th Circuit is the largest of the federal appeals courts, covering the states of Alaska, Arizona, California, Hawaii, Idaho, Montana, Nevada, Oregon and Washington.
Like this story? Share it with a friend!
You can share this story on social media: