Obama blames climate change on 'mommy issues' without naming Trump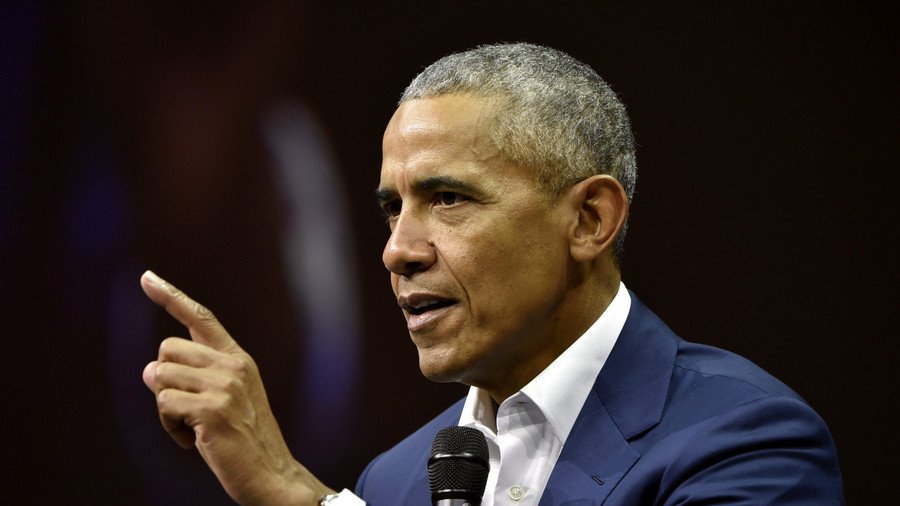 Former President Barack Obama cattily ripped on his successor in a long-winded speech to a room full of his young acolytes Monday night as a part of a two-day "leadership summit" named in honor of himself.
Obama slammed President Trump during an onstage conversation with writer Dave Eggers, opining that "the reason we don't" address climate change "is because we are still confused, blind, shrouded with hate, anger, racism – mommy issues." While Obama has conspicuously avoided using the president's name since Trump took over as Commander in Chief, there was little question as to the target of his remarks.
Speaking in front of a giant Obama.org banner at the Obama Foundation Summit, the former president pressed on, proclaiming, "we are – we are fraught with stuff," and emphasizing the country's very specific need to "invest in people. We got to get people to figure out how they work together in … a cooperative, thoughtful, constructive way."
His frustration with others was a recurring theme throughout the night. "What prevents us from implementing most of the things that we would probably collectively agree would make the world better is not an absence of technical solutions, it's that there are humans involved," he said, adding, "most of the problems in the world don't exist because we don't have good solutions to them." Democracy, he emphasized, is "frustrating and difficult."
The Obama Foundation's stated purpose is "creating and fostering a new global class of leaders," and the silver-tongued former president lost no opportunity to make his listeners feel like they are exactly that. "Go remake the world, it badly needs remaking!" he told the crowd, adding that "the existing social and institutional arrangements of our society have broken down in many ways, and the new ones have not risen up yet."
Though the hour-long conversation ostensibly focused on how Americans could be mobilized to create "social change," Obama's attention meandered from shrunken heads to sub-Saharan crop yields. When asked why he'd returned to Chicago, Obama talked about "extraordinary wealth smack-dab next to extraordinary poverty…it forces you to see who we are in all our glory, but also in all our warts." Ironically, the summit took place in the Obama Presidential Center, which infamously cost Chicago taxpayers $200 million in related infrastructure costs. Last year, Obama received a whopping $400,000 for a speech to Cantor Fitzgerald.
Obama elevated the passive-aggressive insult to an art form while campaigning for Democrats last month, pelting Trump with colorful barbs without explicitly uttering Trump's name once. "They have racked up enough indictments to field a football team!" he told a Wisconsin crowd, boasting that "nobody in my administration got indicted!" He also told Minnesotans that this administration uniquely features "politicians just blatantly, repeatedly, baldly, shamelessly, lying", and that 'he who must not be named' "just makes it up!"
If you like this story, share it with a friend!
You can share this story on social media: