Two years of salary to see Michelle O? Tickets offered online for £70,000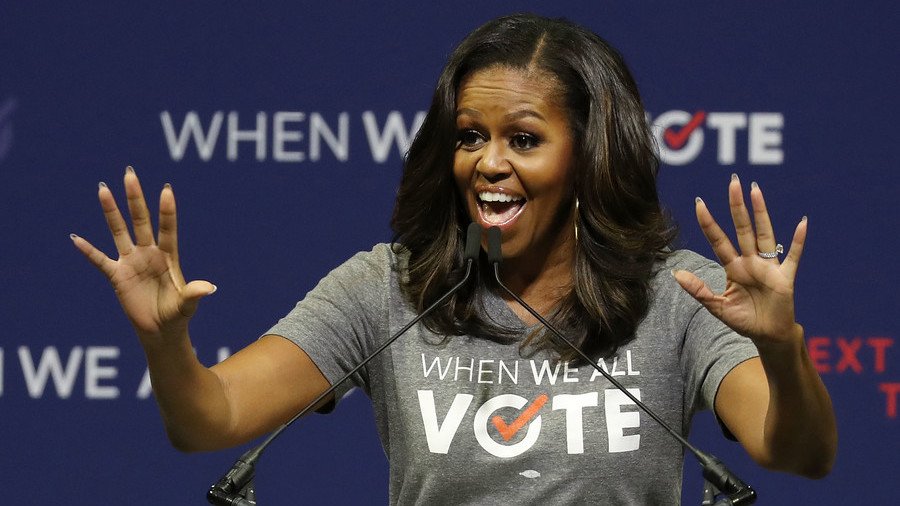 Tickets to see Michelle Obama speak in London sold out within seconds, and were quickly posted for as much as £70,000 – over twice the average yearly salary in the UK – on second-hand tout websites.
The former First Lady is due to talk about her new memoir, 'Becoming', at London's Southbank Centre on December 3. The center holds 2,900 people, but almost 40,000 fans queued up or waited online to snag tickets when they went on sale on Thursday morning.
Tickets were gone within seconds, but the ticket touts at Viagogo.com managed to get their hands on a few. Within minutes, the tickets – originally priced between £30 ($39) and £125 ($163) – were listed for several thousand pounds. One box ticked was available for £72,181 ($94,000), a markup of over 2,400 percent.
Other tickets for the seated event were advertised between £2,000 ($2,600) and £7,500 ($9,800). It is unclear whether Viagogo – which takes a 25 percent cut off all sales – managed to find buyers, as the Southbank Center contacted the site and canceled the tickets.
Viagogo has attracted controversy for its scalping before, and search giant Google has been urged by sports organizations, music industry officials, and politicians in Europe to stop accepting money to place the site at the top of its search rankings.
Mrs. Obama's speaking gig is part of a 13-night tour that kicks off in Chicago on November 13. Tickets for the tour's US dates were reasonably priced and sold out fast. Mrs. Obama's tour starts just over two weeks after her husband toured the US giving a series of speeches endorsing Democratic candidates competing in Tuesday's midterm elections.
Despite his fiery exhortations, Mr. Obama's words failed to attract the same fanaticism that his wife's tour did. Three high-profile candidates Mr. Obama spoke for in the closing days of the midterm campaign – including progressive gubernatorial candidates Andrew Gillum and Stacy Abrams – fell flat on election night, and the former president attracted crowds a fraction the size of President Trump's rallies.
Like the Obamas, the Clintons are also embarking on a speaking tour this November, that will see the former first family visit four US cities between this month and next May. Unlike the Obamas, the Clintons are charging a pretty penny to hear their anecdotes, and presumably in Hillary's case – excuses.
Tickets for the Clintons' tour command up to $750. Not quite the fees either of them commanded between 2000 and 2008 for clients like Goldman Sachs, but far from pocket change.
Think your friends would be interested? Share this story!
You can share this story on social media: