I did it my way: Barack Obama gives self-referential speech in Nevada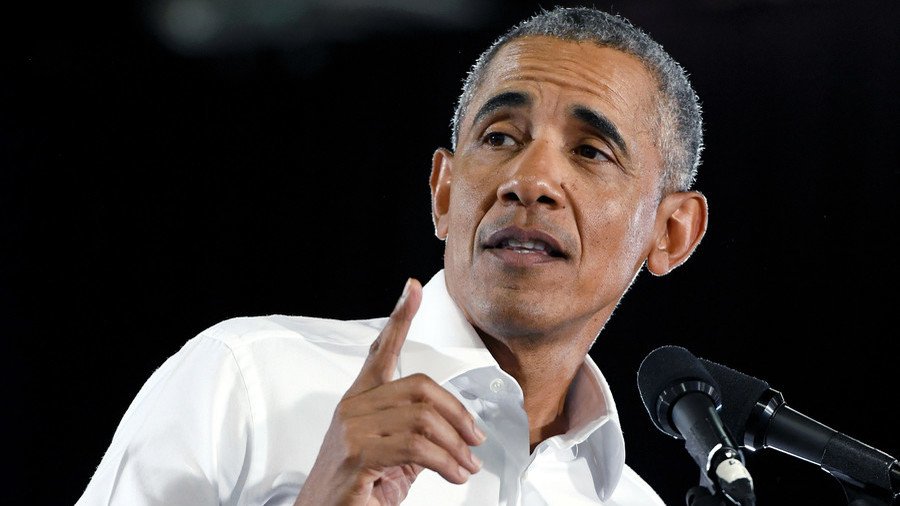 After President Trump delivered a fiery rally to supporters in Nevada on Saturday, former President Barack Obama addressed a smaller crowd nearby. During his more muted speech, Obama referred to himself no fewer than 92 times.
Making an appearance at the University of Las Vegas to stump for Democratic Congressional candidate Jacky Rosen on Monday, Obama told the crowd "I got a lot to say," and followed through on that promise over the following 40 minutes.
Obama targeted the current occupant of the White House from the get-go, and tried to take credit for the US' roaring economy and low unemployment figures, regularly cited by Trump as proof of the success of his "Make America Great Again" agenda.
"When you hear all this talk about 'economic miracles' right now, remember who started it," Obama told the crowd. "And that's what I handed off to the next guy," he added. Despite Obama's self-assured statement, Obama's role in kickstarting the American economy is subjective, and a matter of partisan bickering.
Obama also hit out at Trump's tendency to make wild claims at his rallies, and painted himself as a different sort of character.
"Unlike some, I actually try to state facts," Obama said. "I believe in facts. I believe in a fact-based reality. Fact-based politics. I don't believe in just making stuff up. I think you should actually say to people what's true."
Two days beforehand, in the rural town of Elko, Trump was busy blasting Democrats for supposedly aiding and abetting a thousands-strong 'caravan' of migrants making its way towards the US border from Honduras. He claimed that the caravan is full of "hardened criminals" and said that "The Democrats don't care that a flood of illegal immigration will bankrupt our country."
Despite the media's insistence on fact-checking and correcting every one of Trump's exaggerated claims, the president's rallies pull in crowds orders of magnitude larger than Obama's. Trump spoke to a capacity crowd of 8,500 supporters at Saturday's rally, while Obama spoke to a crowd of only 2,000.
Obama's tone remained the same throughout his speech, and referred to himself an average of once every 25 seconds. Obama's penchant for tooting his own horn has been pointed out before by conservatives. In a speech at the University of Illinois in September, the former POTUS referred to himself no less than 102 times in a 64 minute speech.
The 44th president struck a similar tone while in office. In his first State of the Union address in 2010, Obama mentioned himself 98 times, compared to Trump's relatively modest 26 in his first speech last year, despite the fact that Trump's speech was longer.
'Modesty' is a word rarely associated with Trump, and the current president certainly likes to talk up his administration's accomplishments. However, Trump's speeches are heavy on the word 'we,' a rhetorical device that, at least partly, draws crowds of supporters to his rallies.
Despite his fondness for self-reference, Obama was in Las Vegas on Monday to big up Rep. Jacky Rosen, who faces a tough battle against Republican challenger Dean Heller to hang on to her seat. Heller is ahead of Rosen by between one and two points, in a state that has gone back and forth between the parties for decades, and voted for Hillary Clinton by two points in 2016.
If you like this story, share it with a friend!
You can share this story on social media: