Weather Channel reporter mocked for gender-neutral 'snowperson'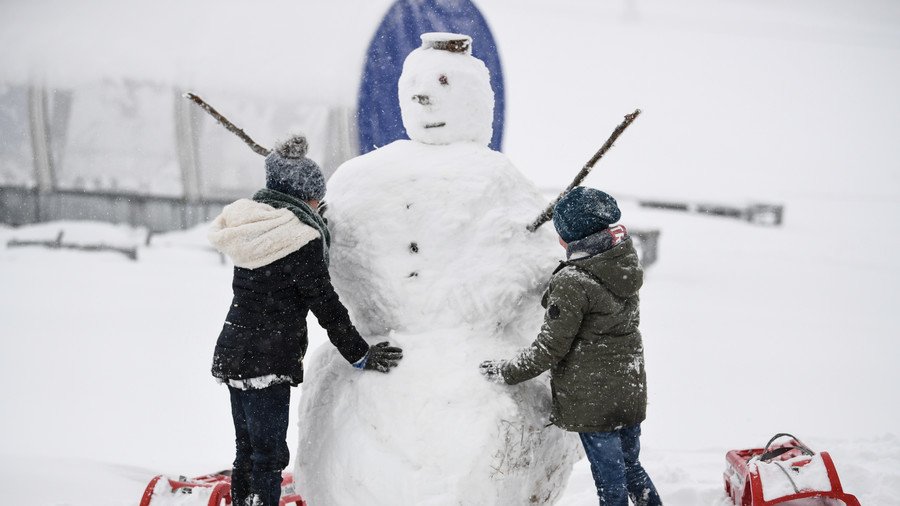 Weather Channel reporter Mike Seidel was mocked on Twitter for bringing woke politics to his weather reports, after he called a snowman a "snowperson."
"1st snowperson of the season and the 2nd snowfall in less than a week in Nashua, NH," he tweeted on Monday, presumably deploying the gender-neutral term 'snowperson' to avoid triggering all the snowwomen and non-binary snowtranssexuals out there.
READ MORE: BuzzFeed gets free biology lesson after promoting bra for big-boobed...'PEOPLE'?!
Seidel's uber-2018 language was instantly mocked on Twitter. "Frosty the Snowperson...just doesn't have the same ring to it," one commenter wrote.
READ MORE: Storm in a teacake: Bakery blasted for selling 'Gingerbread persons'
Believe it or not, Seidel's tweet was not the first reference to androgynous snow-people this winter season. In Britain, the BBC was ridiculed earlier this month when a children's presenter called snowmen 'snowpeople.' Cantankerous TV host Piers Morgan mocked the broadcaster, and even Star Trek actor WIlliam Shatner joined in, tweeting "the whole world's going cray!"
The modern trend towards stripping children's icons of their nasty, toxic masculinity has begun to creep into the festive season as of late. A tongue-in cheek petition to rename Santa "person Christmas" fooled several Australian tabloid newspapers last year, but a very real Slate article five years ago suggested stripping Father Christmas of his white, masculine identity and reimagining him as a cuddly, completely inoffensive penguin.
In terms of actual news, Seidel did point out that this Thanksgiving is set to bring record cold to the US Northeast. Boston's Thanksgiving is set to be the coldest on record, while in New York, icy arctic gusts might end up grounding the iconic balloons of the Macy's Thanksgiving Parade.
Perfect conditions for snowpeople.
If you like this story, share it with a friend!
You can share this story on social media: