16 Democrats vow to block Pelosi from retaking House Speaker throne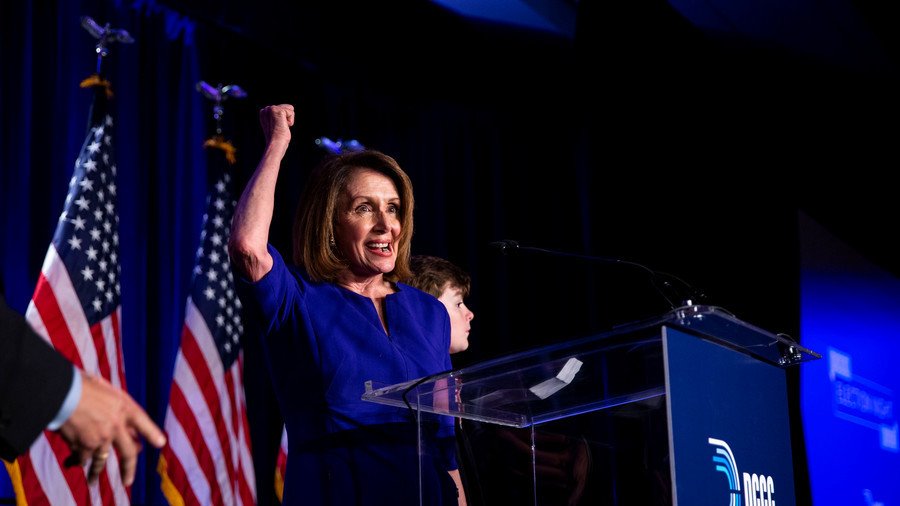 Democrats are pledging to block Rep. Nancy Pelosi (D-CA) from resuming her post as Speaker of the US House, writing in a letter that voters only gave Democrats back the House to upend the status quo, not provide more of the same.
Sixteen House Democrats signed the letter, leaving Pelosi one vote shy of the margin she needs to win back the Speaker post on January 3. The signatories included 11 incumbents, four incoming freshmen, and a Utah candidate whose race has not been settled.
Three more Democratic reps told Politico they planned to oppose her coronation as well but did not sign the letter, which called Pelosi a "historic figure" but spoke of the need for "real change in Washington."
The first female Speaker of the House, Pelosi held the post from 2007 until 2011, when Democrats lost control of the chamber in a lapse that has snowballed into the loss of over 1,000 state legislature seats since Obama took power in 2008. Democrats' failure to conduct an 'autopsy' following the 2016 election, as well as the party's hostility toward progressive candidates in 2018, have been blamed on Pelosi.
Pelosi, who calls herself a progressive but has refused to lend her support to issues like the single-payer healthcare championed by others in her party, is seen as the embodiment of the Democratic Party status quo. With a rumored $196 million personal fortune, she is also the party's biggest fundraiser, raising $141 million just in 2016. Of course, that was the year of the Democrats' most infamous loss.
There is no denying Pelosi has influence, however. Some who campaigned on opposing her return to power have already been persuaded to change their minds, such as Rep. Marcia Fudge (D-OH), who planned to run for Speaker herself and even signed a previous version of the letter but has since backed away from that commitment, hinting that she will try to persuade Pelosi to retire in 2020.
No one else has stepped up to definitively challenge Pelosi, though a movement to draft Rep. Barbara Lee (D-CA) is gathering support. Lee is best known for her anti-war stance – she was the only member of either chamber of Congress to vote against the Authorization for Use of Military Force following 9/11 – but has not expressed a desire to challenge Pelosi.
President Trump, perhaps smelling blood in the water, tweeted his support for Pelosi, even offering to help her get "as many votes as she wants."
I can get Nancy Pelosi as many votes as she wants in order for her to be Speaker of the House. She deserves this victory, she has earned it - but there are those in her party who are trying to take it away. She will win! @TomReedCongress

— Donald J. Trump (@realDonaldTrump) November 17, 2018
Democrats subsequently tied themselves in knots trying to figure out his intentions, given Trump's record of public disdain for the former Speaker. Some speculated he saw her as a reliable bogeyman for electing Republican candidates, while others thought he was attempting reverse psychology. Still others, of course, blamed Russia.
Reasons Trump wants Pelosi as speaker- GOP fundraises & turns out base off of bashing her- Her approval is 28%, makes him popular in comparison- She caves to the GOP all the time- She fights her own base all the time- He knows whoever replaces her will obstruct him & go left https://t.co/MyMAlkGC8h

— Secular Talk (@KyleKulinski) November 17, 2018
Trump is trying to trick you into believing that he's in league with Nancy Pelosi, so you'll turn against her. Don't fall for it. Also, this proves that the "movement" to oust her isn't what it seems. https://t.co/xqM3PnKfkv

— Palmer Report (@PalmerReport) November 17, 2018
What do Republicans want so badly?For someone to replace Nancy Pelosi.What does Russia want so badly?For someone to replace Nancy Pelosi.What does Trump want so badly?For someone to replace Nancy Pelosi.HERE'S AN IDEA:LET'S NOT REPLACE NANCY PELOSI (@NancyPelosi)

— Ed Krassenstein (@EdKrassen) November 15, 2018
You can share this story on social media: