Florida judge orders voter records inspection, siding with Republicans as recount looms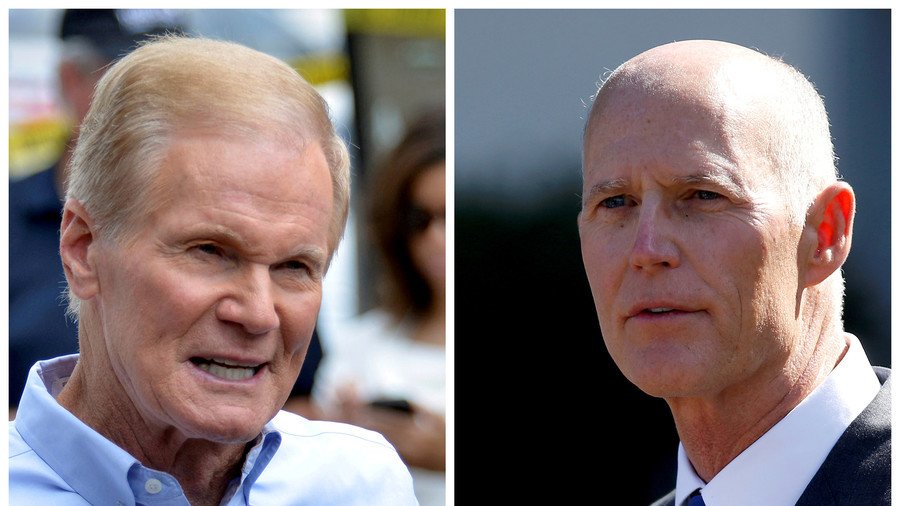 A Florida judge ruled the Broward County elections supervisor must allow inspection of voter records in response to a lawsuit from outgoing Governor Rick Scott, whose Senate victory is now in jeopardy thanks to late-counted votes.
Judge Carol-Lisa Phillip ruled that Supervisor of Elections Brenda Snipes must allow the records to be inspected before 7 pm local time on Friday and determined she had violated public records law by failing to release the information to Scott's attorneys.
Scott filed suit in Broward and Palm Beach counties on Thursday. The first lawsuit, which he filed jointly with the National Republican Senatorial Committee, alleges Snipes was "unwilling to disclose records revealing how many electors voted, how many ballots have been canvassed, and how many ballots remain to be canvassed."
At the same time, Scott ordered Florida law enforcement to investigate the elections offices in both counties, though he stopped short of alleging criminality or fraud in writing. Florida Department of Law Enforcement spokesperson Gretl Plessinger told CNN that the agency is not "actively investigating anything related to the election."
While Scott looked to have won his Senate race by a secure margin on Tuesday night, late-counted ballots have cast doubt on his victory, leaving him within 0.25 percent of his opponent, Democrat Bill Nelson – which would trigger an automatic recount.
On Friday morning, Nelson filed a lawsuit of his own against Florida Secretary of State Ken Detzner, calling for all mail-in votes and those "determined to involve a signature mismatch, be counted as valid votes," alleging that the signature-matching process is discriminatory and a violation of the Fourteenth Amendment's Equal Protection clause. The suit claims the "standardless, inconsistent, and unreliable signature matching process" is unfair to the young, the non-white and first-time voters.
Scott lashed out at his opponent, whose lawyer – Democrat heavyweight Marc Elias – has been attached to several other contested elections that went to recounts.
"Until today, the Nelson campaign has been working on voter fraud behind the scenes in secret," Scott said in a statement. "With today's filing, their desperation has driven them to ask the federal courts to allow voter fraud."
The late-counted votes have also cast doubt on the results of the contest for Scott's gubernatorial seat, which Republican Ron DeSantis appeared to have won. Democrat Andrew Gillum, who conceded Tuesday night, withdrew his concession on Thursday and said he was open to a recount.
In Florida, votes are subject to a machine recount if the margin of victory is under 0.5 percent and a hand recount if under 0.25 percent.
Not very comforting to #Florida voters that #BrowardCounty supervisor,in whose hands may rest outcome of Senate & cabinet race has in the past: 1. Illegally destroyed ballots2. Secretly opened mail ballots3. Sent voters too many ballot pages4. Left const question off ballot

— Marco Rubio (@marcorubio) November 9, 2018
Signs that something's rotten in Broward:-still counting votes 3 days after the election-46K votes found day after election-people caught on tape loading ballots into rented truck-election supervisor destroyed @Tim_Canova vs Wasserman-Schultz 2016 ballots against court order

— Dr. Jill Stein🌻 (@DrJillStein) November 9, 2018
Broward County has become something of a Bermuda Triangle for votes under Snipes, whom a court found to have illegally destroyed ballots in 2016 while subject to a legal challenge from congressional candidate Tim Canova.
Florida itself has been a running joke in electoral politics ever since the 2000 recount that many believe handed the presidency to George W. Bush. The "hanging chads" at fault in that contest were found in multiple counties, including Broward and Palm Beach.
You can share this story on social media: