They are coming: Migrant caravan resumes march to US border (VIDEO)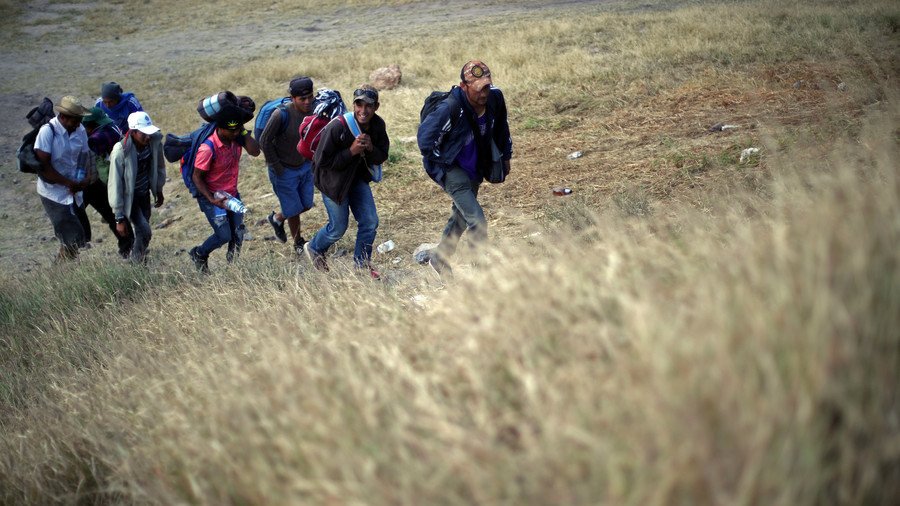 The Central American migrant caravan has just begun another leg of their journey to the US border hastily reinforced by the Army and Marine Corps. The migrants previously made a days-long stop in Mexico City.
The caravan, made up mostly of Hondurans, but also nationals of other Central American countries, is now on the move towards the United States border. Migrants resumed their march north on Saturday morning after spending almost a week in Mexico City.
A Ruptly video shows dozens of people waiting for trains in Mexico subway or boarding heavy trucks or buses somewhere outside the city. Others are seen using cars to continue their journey.
To get there, migrants will have to travel some 1,700 miles (2,735km) to the northwest, a much longer route than to the nearest US border crossing at McAllen, Texas, which many consider to be the safest option.
Meanwhile on the other side of the US border, efforts are being made to reinforce it and make it less penetrable from the outside.
The US has deployed 5,200 troops to help border protection thwart what Donald Trump has described as an impending migrant "invasion."
READ MORE: UN turns down caravan migrants' request for buses to get to US
For now, the active-duty servicemen have mainly been erecting barbed-wire fences along the border and building shelter accommodation for customs and border protection staff.
As the caravan approaches the US border, President Donald Trump has signed an immigration decree requiring asylum seekers to apply at their point of entry to the country and barring illegal immigrants from requesting asylum.
"We need people in our country but they have to come in legally and they have to have merit," Trump told reporters before departing for Paris.
Like this story? Share it with a friend!
You can share this story on social media: