'He shot a lot, at least 30 times': Borderline Bar attack witnesses recall terrifying ordeal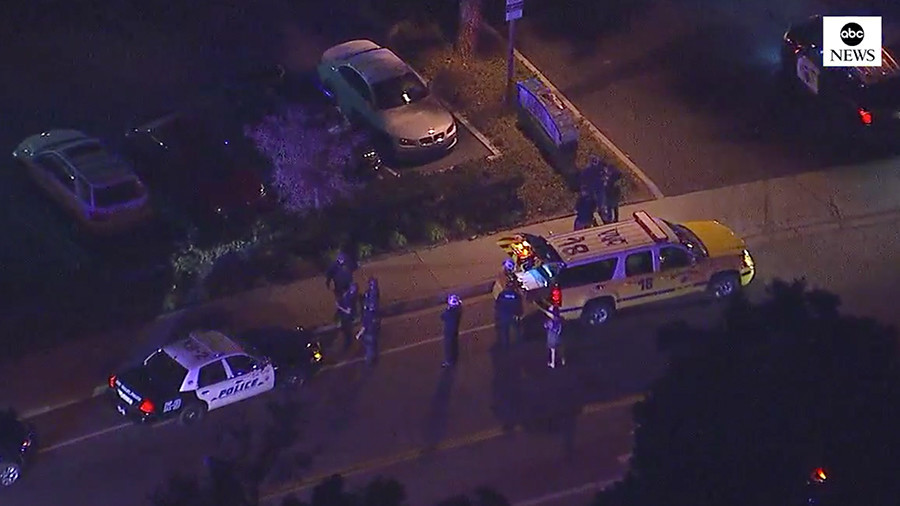 Witnesses to the mass shooting at the Borderline Bar and Grill in Thousand Oaks, California are sharing their accounts of the horrifying moment a shooter opened fire on a crowded student night, killing at least 12 people.
First responders remain at the scene.
READ MORE: At least 11 people, incl police officer confirmed injured in California bar shooting (PHOTO, VIDEO)
"I just started hearing these big pops. Pop, pop, pop. There was probably three or four, I hit the ground. I look up - the security guard is dead," John Hedge told KABC-TV. "Well, I don't want to say he was dead, but he was shot. He was down."
Hedge, who was standing at the front door with his stepdad at the time, said he saw the shooter "throwing smoke grenades all over the place."
Hedge's stepfather, Tim, told told the news network he knew once he heard the first gunshot that it was a real shooting.
"My son thought it was a joke so I pulled him down and got some cover. I looked up and [the shooter] was moving to the right. He shot the front doorman, who was just a young man. Then he shot the cashier, just a young girl," he said.
Capt. Garo Kuredjian of Ventura County Sheriff's Department confirmed that at least 11 people were injured, including a deputy. He said that the number of wounded could increase.
"He shot a lot, at least 30 times. I could still hear gunshots after everyone left," a witness told the LA Times.
"All of a sudden everyone screamed get down. Everyone on the dance floor jumped behind something or dog piled on the floor somewhere," Teylor Whittler told KABC.
Meanwhile, California Lutheran University student Nick Steinwender told KABC he rushed to the scene when he heard about the shooting. His friends told him that inside the bar "it was chaos, people jumping out of windows, hopping over gates" in a desperate bid to escape.
"From what I heard, the gunman started shooting at the front desk," he added. "Students were hiding in the attics, bathrooms and stuff like that."
Eyewitness Rochelle Hammons told the Washington Post that "all of a sudden we heard four shots, you know, 'bang, bang, bang, bang.' Everyone got down on the floor."
She also spoke of her terrified escape as the shooting unfolded: "As everyone crouched down on the floor, I figured that my only chance would be to run out to the nearest exit. I saw the nearest exit, and I ran out as fast as I could."
"It was really, really really shocking," Whittler recalled. "It looked like he knew what he was doing."
Another of the bar's patrons, Nellie Wong, told the LA Times that she hid in the kitchen when the shots rang out: "Thank goodness he didn't see me at all. I immediately stopped moving, stopped breathing."
Local resident Erika Sigman was also inside the premise when the attack kicked off.
"Shots kept going. We just heard people say run and booked it as fast as we could," Sigman said afterwards.
"I'm a Thousand Oaks resident," she added. "This is a safe place. My parents let me go here. This is a trusted place... to know that this happened in my safe place is a very, very scary thing. You just don't expect it to happen in Thousand Oaks."
Like this story? Share it with a friend!