Trump blames Obama 'regime' for giving Crimea to Russia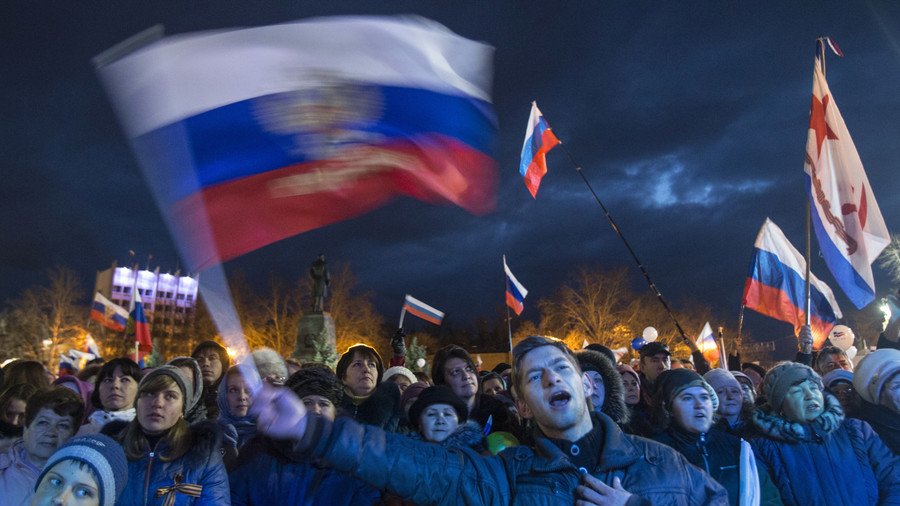 President Trump has blamed his predecessor for Ukraine's loss of Crimea to Russia, apparently unaware that the transfer was the result of a referendum and that Ukraine is a sovereign nation.
When a reporter suggested instead that "it was President Putin who annexed Crimea," Trump insisted, "That was President Obama's regime. That was during President Obama. Right? It was President Obama that allowed that to happen." Other countries have always suspected the US of believing nothing happens without its approval, but Trump's remarks raise the bar for American exceptionalism.
Trump did not elaborate on how he felt Obama should have acted to prevent Crimeans from voting in a referendum to join Russia.
The exchange took place at a press conference on Wednesday during which reporters asked the usual questions about the president's relationship with Russia. When Trump met with Putin in Helsinki in July, Democrats and Republicans found something to agree upon, haranguing the president for not being tougher on his Russian counterpart for "meddling" in the 2016 election – allegations that have yet to be proven.
Trump told reporters he planned to meet with Putin during the G20 summit in Argentina this month but repeated he will not be meeting with the Russian president in Paris during the Armistice Day ceremonies commemorating the 100th anniversary of the end of World War I. The two nations mutually agreed not to hold a summit during the event to avoid causing a distraction.
The US and other western countries imposed harsh sanctions following Russia's March 2014 reunification with Crimea, which they portrayed as an act of Russian aggression despite the decision of the majority of Crimea's inhabitants. The vote followed on the heels of the overthrow of democratically-elected Ukrainian president Viktor Yanukovych after a series of violent protests in Kiev's Maidan Square and the rise of a coalition backed by the US and NATO.
This isn't the first time Trump has blamed Obama for the situation in Crimea. The president made similar remarks in June while discussing his plans to meet with Putin, suggesting that the "loss" of Crimea happened "because President Putin didn't respect President Obama, didn't respect our country."
You can share this story on social media: