'You are a rude, terrible person!' Trump and CNN's Acosta get into shouting match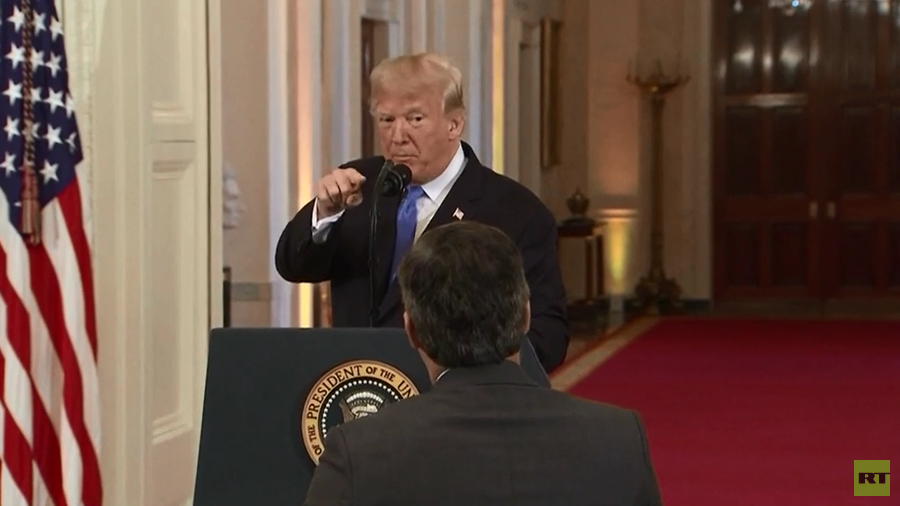 Donald Trump and CNN's Jim Acosta clashed at the president's post-midterm press conference. Trump lashed out at Acosta, saying CNN "should be ashamed" of him and he's been horrible to White House press secretary Sarah Sanders.
After congratulating Republican candidates on their victories and striking a bipartisan tone towards the now Democrat-controlled House, Trump took questions from the press on Wednesday.
READ MORE: '2 can play that game': Trump threatens Senate probes into Dems, as House investigations loom
CNN's Jim Acosta took Trump to task, grilling the president on a recent campaign ad depicting a thousands-strong 'caravan' of Central American migrants heading for the US border as an "invasion."
Trump defended his characterization of the migrants, telling Acosta "you should let me run the country, you run CNN."
"If you did it well, your ratings would be much better," Trump snarked.
Acosta again tried to badger Trump, and the president lost his cool, shouting "that's enough!" at the reporter. Acosta refused to sit down, then switched gears, asking the president if he is "concerned" about Special Counsel Robert Mueller's ongoing and still fruitless 'Russiagate' investigation.
"I'm not concerned about anything with the Russia investigation because that's a hoax," Trump replied, before telling Acosta to "put down the mic." Trump walked away from the lectern until Acosta calmed down, then came back with a stern lecture for Acosta.
"I tell you what, CNN should be ashamed of itself, having you working for them. You are a rude, terrible person. You shouldn't be working for CNN...the way you treat other people is horrible."
"When you report fake news, which CNN does a lot, you are the enemy of the people," Trump said, before Acosta sat back down.
Acosta has positioned himself as one of Trump's most prominent critics in the media, and has often gotten personal in his dealings with the Trump administration. After tweeting a rambling complaint about the volume of the music at Trump's campaign-style rallies last month, Acosta messaged a former White House official who responded, telling him to "f*** off."
Trump's ongoing feud with CNN has seen the president skip over Acosta at press conferences, and has seen the president's supporters boo the reporter at rallies. Trump also hit out at Acosta on Wednesday for being rude towards Press Secretary Sarah Sanders.
Reaction to Trump and Acosta's spat online was mixed, and both president and reporter were accused of acting immaturely.
Wednesday's conference also saw the President snap at NBC News' Peter Alexander and CNN's April Ryan. Trump blasted Alexander for "trying to be like" Acosta, and Ryan for "rudely interrupting" another reporter.
On multiple occasions during the 90-minute presser, Trump said that a more civil tone in national discourse needs to begin with the media, which he argued cover him in a hostile manner.
"I would love to have a very even, modest, boring tone," he said at one point, adding that this won't happen if he keeps getting attacked and has to fight back.
When a PBS reporter insinuated that Trump's embrace of nationalism emboldens white supremacists, the president shot back, "That's such a racist question."
Trump also had harsh words for a Yahoo News reporter who asked about allegations that he had made racist remarks in the past.
"See, when you talk about division, it's people like this that cause division," he told the room.
If you like this story, share it with a friend!
You can share this story on social media: