Twitter: Oops, we didn't really mean for you to 'Kill all Jews'
Twitter has apologized for offending New Yorkers with the trending hashtag #KillAllJews after anti-Semitic epithets were found scrawled on a Brooklyn synagogue wall before a scheduled political event.
The phrase was initially believed to be among those found written in black marker on the wall of Union Temple Thursday night, but the NYPD confirmed that the graffiti actually read, "die Jew rat," "end is now," and "Hitler," among other Anti-Semitism 101 slogans. A custodian claimed to have seen "Kill all Jews" written on a door, and the inaccurate phrase was picked up and amplified by Twitter users.
"This phrase should not have appeared in trends, and we're sorry for this mistake," a Twitter spokesperson told media outlets. "This was trending as a result of coverage and horrified reactions to the vandalism against a synagogue in New York. Regardless, it should not have appeared as a trend." The statement was conspicuously absent from the company's Twitter feed.
Comedian Ilana Glazer, of HBO series Broad City, had been scheduled to hold the fourth and final segment of her Generator series at the temple, which is located in Brooklyn's Prospect Heights neighborhood. The graffiti was found shortly before the event was due to start at 8pm.
Glazer was supposed to interview Amy Goodman of Democracy Now, along with Democratic state senate candidates Andrew Gounardes and Jim Gaughran. Instead, she sent the assembled crowd home, appearing visibly upset as she spoke to the audience.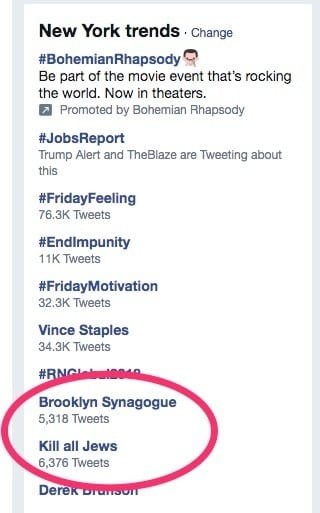 The trending hashtag appeared on Twitter less than a week after an anti-Semitic gunman opened fire inside Pittsburgh's Tree of Life synagogue, killing 11 people. Reports from police at the scene suggest he yelled something similar before running into the building.
@Twitter and @jack are a joke. They get rid of all these conservative people but then allow a horrifically offensive topic to trend like #killalljews or "kill all Jews"

— Dave Ostin (@wallstreetwonk1) November 2, 2018
Twitter's terms of service don't permit profanity or "hate speech" targeting users on the basis of racial, ethnic or religious identity on its platform, and hundreds if not thousands of users have been kicked off for much less. Last month, hundreds of accounts were suspended for posting the "NPC" meme after complaints that it was "dehumanizing."
Following the shooting last weekend, media rushed to blame social media platform Gab, where the suspect had shared his hatred for Jews and President Trump. He also had accounts on Twitter and Instagram, though those platforms escaped media scrutiny. Gab has since lost its domain name and web host and founder Andrew Torba claims his family has been threatened.
Think your friends would be interested? Share this story!
You can share this story on social media: