Gab blamed for synagogue shooting, kicked off PayPal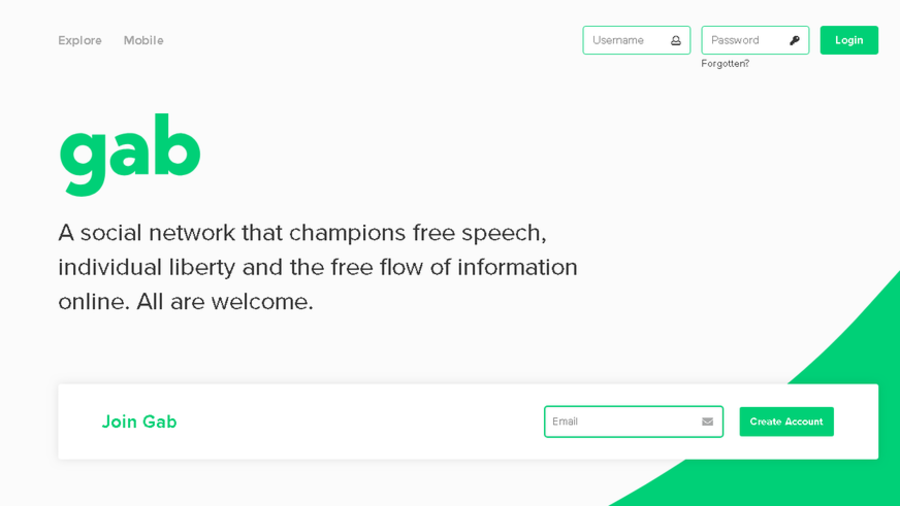 Gab, a social media platform used by the Pittsburgh synagogue shooter, has been kicked off PayPal and pressured into releasing an apologetic statement for the shooter's anti-Semitic rants.
In the letter it sent to Gab, PayPal does not elaborate on how the platform violated its user agreement, explaining that it is PayPal's right to terminate service at any time for any reason – a provision hidden in many online contracts.
The alleged shooter, Michael Bowers, had accounts on Twitter and Facebook as well, but it was Gab – the alt-right's favorite platform – that took all the heat for hosting Bowers' anti-Semitic rants. Gab, meanwhile, says it provided Bowers' user data to the FBI immediately when it heard of his identity, archiving his account before suspending it.
Gab bills itself as the "home of free speech online" and makes a point of keeping content censorship to an absolute minimum. As a result, it has become a haven for those banned by left-leaning Twitter and Facebook for violating their stringent hate-speech rules. Overall, its users range from prominent conservatives like Ann Coulter and Mike Cernovich, to controversial figures like Milo Yiannopolous, to the more extreme examples that critics like to use as ammunition against the platform.
READ MORE: 'Trump controlled by Jews' & other anti-Semitic conspiracies of synagogue shooter
As eyes turned to Gab in the wake of the Pittsburgh synagogue shooting, it issued a public statement reminding critics that while the site may be more permissive than Twitter or Facebook, it does have rules, which expressly prohibit illegal or violence-inciting content – and posit that all kinds of speech are protected by the First Amendment.
Liberal critics still rushed into the breach to condemn Gab and accuse it of enabling an online anti-Semite to turn into a real-life murderer.
Gab responds by pointing to the very recent case of "MAGAbomber" Cesar Sayoc, who had sent crude pipe bombs to a host of Trump critics, and who had unhindered use of other social media platforms for over two years before that. Sayoc used that time to threaten his political enemies on Twitter, getting reported for it on at least one occasion, but was only removed by the platform after he was arrested on Friday.
Also on Friday, the Anti-Defamation League released a study showing a "notable" increase in anti-Semitic content on Twitter and Instagram over the past year, in spite of their increasingly stringent policies against hate speech. The study reported the existence of "online propaganda offensives" supposedly meant to intimidate Jews ahead of the US midterms, but seems to conflate criticism of billionaire financier George Soros – a favorite bogeyman of the right – with attacks on all Jews. Soros was the first public figure to receive a suspicious device in his mailbox on Monday.
Meanwhile, neither Twitter and Facebook, which has even been used to livestream murders, have yet received a letter of termination from PayPal.
Subscribe to RT newsletter to get stories the mainstream media won't tell you.
You can share this story on social media: