Honor, courage… sky cocks? US military investigating aircraft's penis-shape maneuver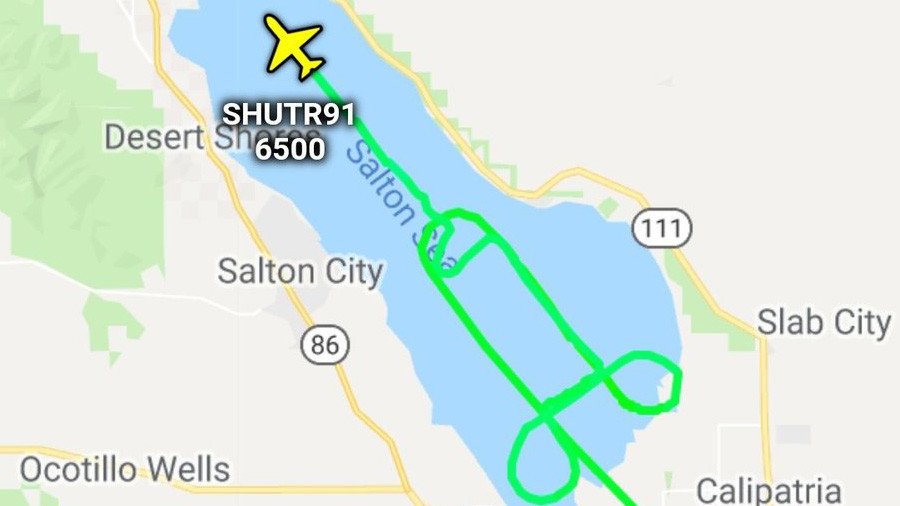 An investigation has been launched following a huge US Marine Corps cock-up, which saw a military plane's flight path seemingly used to trace a penis in the sky.
Dubbed a "sky dong" by US media, the apparent prank took place in the skies close to a military gunnery range in California. The phallic sky drawing appeared on real-time aircraft tracking systems and a screengrab was posted on Twitter this week, much to netizen's amusement.
The images reveal the pattern of a penis above Salton Sea lake in California. The area is near the Chocolate Mountain Aerial Gunnery Range, where the US Navy and Marines test aircraft bombs and live fire.
Responding to reports claiming that the aircraft belonged to the Navy, an official Twitter page for the arm of the US military sought to distance itself from what appears to be hijinx dreamed up by a pilot in the Marines.
The aircraft used was reportedly a T34C, a plane that is generally used in flight training, according to Military.com. Since the images went viral, an investigation has been launched to get to the bottom of the bizarre flight pattern.
READ MORE: Willy be punished? Penis design in sky lands Navy pilot in hot water (GRAPHIC PHOTOS, VIDEO)
"Obscene or inappropriate actions, flight or not, do not reflect the core values we hold as Marines," said Major Josef Patterson, a spokesman for 3rd Marine Aircraft Wing, reported USA Today.
While sky penises may not reflect their core values, they do seem to be becoming a bit of a trend in the US armed forces. In November last year, a Navy pilot took things a step further by using his jet's contrails to scribe a massive member in the skies above rural Washington.
If you like this story, share it with a friend!
You can share this story on social media: